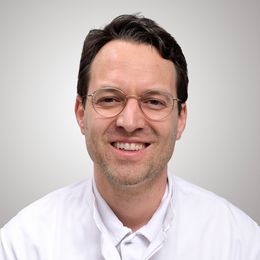 Dr. med.
Urs Schulz
Consultant Anesthesiology
Languages
German, English, Spanish, French
Specialisation
Anesthesiology
Studies
2009 Graduation in human medicine from the University of Zurich
Professional career
Since 2022 Senior Physician Anesthesia Balgrist University Hospital
2020–2021 Senior Registrar/Fellow Anesthesia Fiona Stanley Hospital (Australia)
2020 Registrar Intensive Care Royal Perth Hospital (Australia)
2017–2019 Senior Registrar Anesthesia Balgrist University Hospital
2013–2017 Resident Anesthesiologist Unispital Zurich (USZ)
2011–2013 Resident Anesthesiologist GZO Hospital (Wetzikon)
2009–2010 Resident in Internal Medicine Linth Hospital (Uznach)
Postgraduate
Since 2016 Specialist in Anesthesiology FMH
Degrees / Diplomas
2017 Doctorate Medical Faculty University of Zurich
Fellowships
2020–2021 Regional Anesthesia Fellowship
Memberships
Swiss Medical Association (Foederatio Medicarum Helveticorum, FMH)
Swiss Association of Residents and Consultants (VSAO)
European Society of Regional Anaesthesia & Pain Therapy (ESRA)
European Society of Anaesthesiology and Intensive Care (ESAIC)
Publications
Anesthesia
Prof Dr Urs Eichenberger and his team use the latest anesthetic techniques for patients of all ages, including children, to provide optimal conditions for smooth and pain-free surgery, as well as recovery from the operation with no complications and minimal pain. Once patients have left the operating theatre, the team continues their care in the recovery room, on the intensive care unit, on the ward, and in subsequent anesthetic and pain clinics.