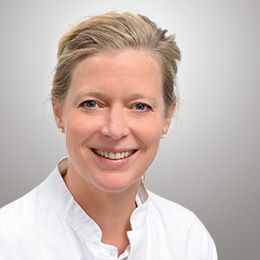 Dr. med.
Friederike Wippermann
Consultant University Center for Prevention and Sports Medicine
Languages
German, English, French
Specialisation
Pediatrics and adolescent medicine
Sports medicine (DGSP)
Sports science (M.A.)
Graduate
2017 Acquisition of additional qualification in sports medicine
2014 Specialist in pediatrics and youth medicine
2011 Doctorate (Dr. med.) University of Göttingen
2008 Licence to practise medicine
2007 Sports scientist (M.A.)
2002–2008 Medical studies at the University of Göttingen
1999–2007 Study of Sports Science at the University of Göttingen
Professional career
2014–2019 Chair of Preventive Pediatrics, Faculty of Sports and Health Sciences, Technical University Munich: Research Assistant / Medical Specialist
2015–2019 German Heart Center Munich, Clinic for Pediatric Cardiology and Congenital Heart Defects: Specialist
2015 Children's hospital Munich Schwabing: Oncological day clinic, specialist
2014 Pediatrician Dr. Jürgen Ratay, Freising: Specialist
2010–2013 Catholic Children's Hospital Wilhelmstift Hamburg: Neonatology, Intensive Care Medicine and Serious Burn Injuries Department, General Pediatrics: Assistant Doctor
2008–2010 Klinikum Traunstein, Clinic for Pediatrics and Youth Medicine: Assistant doctor
Major sports medicine functions
Swiss Football Association: Team doctor U17 women national team
Physician of the Zurich Gymnastics Association (ZTV)
Supervision Gym Motion
Supervision Art on Ice
Memberships
Society for Pediatric Sports Medicine GSP
Pediatricians Switzerland
Professional Association of Swiss Physicians FMH
Medical Society of the Canton of Zurich
German Society for Sports Medicine and Prevention - German Association of Sports Physicians
Contact
Opening hours Reception
Monday to Thursday
7 a.m.–8 p.m.
Friday 7 a.m.–6 p.m.
+41 44 386 52 52
+41 44 386 52 48
Email
Medical secretariat
+41 44 386 52 07
+41 44 386 52 08
Physiotherapy
Monday to Friday
6.45 a.m.–8.30 p.m.
Saturday 8 a.m.–1 p.m.
Fitness center
Monday until Friday
7 a.m.–8.30 p.m.
Friday
7 a.m.–8 p.m.
Saturday / Sunday / holiday
8.30 a.m.–3 p.m.