Dr. Cesar Hincapié, DC PhD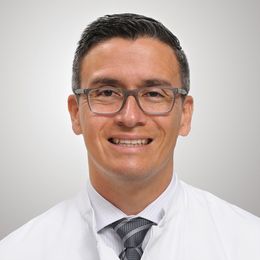 Clinical position
International Research Fellow
Team
Research chiropractic
Specialisation
Chiropraktische Medizin und Epidemiologie
Languages
English, Spanish, French
2019 International Chiropractic Research Fellowship, Department of Chiropractic Medicine, Faculty of Medicine, University of Zürich and Balgrist University Hospital, Zürich, Switzerland, Aug 2019 – Jul 2022
2015 Canadian Institutes of Health Research – Institute of Musculoskeletal Health and Arthritis Young Investigators Forum. A by-invitation forum for young scientists from across Canada in the area of musculoskeletal health and arthritis. Kananaskis, AB, October 22-23, 2015
2015 Special Oral Presentation for Highly-Ranked Abstract: "Chiropractic care and the risk for acute lumbar disc herniation: a population-based self-controlled case series study." Presented at the Bone and Joint Decade World Summit and the Norwegian Musculoskeletal Research Network Conference 2015, Oslo, Norway, October 8-9, 2015
2011 Special Spotlight Presentation for Highly-Ranked Abstract: "A cost-effectiveness analysis of common nonsurgical treatments for neck pain." Presented at the National Student Conference of the Canadian Society for Epidemiology and Biostatistics, Montreal, QC, June 19-20, 2011
2010 Canadian Chiropractic Association Young Investigator Award
2009-2013 Canadian Institutes of Health Research (CIHR) Fellowship in the Area of Knowledge Translation, CIHR in partnership with the CIHR Knowledge Synthesis and Exchange Branch, 2009
2009 First Prize for Best Poster: "Is a history of work-related low back injury a risk factor for troublesome low back pain? Results of a population-based prospective cohort study." Presented at the World Federation of Chiropractic – 10th Biennial Congress, Montreal, QC, April 30-May 2, 2009
2009-2010 Ontario Graduate Scholarship. School of Graduate Studies, University of Toronto, 2009
2007 – 2008 CAD 10'000 Center of Research Expertise in Improved Disability Outcomes (CREIDO): A history of work-related low back injury as a risk factor for onset of an episode of troublesome low back pain: analysis of a population-based, prospective cohort study
2008 – 2010 CAD 399'568 Canadian Chiropractic Protective Association: An epidemiological investigation of the risk of lumbar disc herniation and cauda equina syndrome following chiropractic care
2009 – 2013 CAD 220'000 CIHR Fellowship in the Area of Knowledge Translation CIHR: in partnership with the CIHR Knowledge Synthesis and Exchange Branch: Epidemiological assessment of the risk for acute lumbar spine disc herniation from chiropractic care
2019 – 2021 CAD 115'000Competitive research grant from Canopy Health Innovations COPE: Cannabinoids to Obviate Pain Experiment after knee replacement
As a chiropractor-epidemiologist, Dr. Hincapié's research interests focus on the study of the etiology, prognosis and treatment of MSK disorders and their resulting disability. His work lies at the intersection of clinical epidemiology and musculoskeletal health.
Underlying themes in Dr. Hincapié's research include chronic pain and illness, health quality improvement, health equity, implementation science, and descriptive, analytical, and translational epidemiology. In particular, he is dedicated to epidemiologic research designs and methods to questions of clinical and public health importance in the area of MSK health.
Presentations as guest speaker:
2019
Does chiropractic care increase the risk for lumbar spine disc herniation? An epidemiologic mixed methods approach. Epidemiology, Biostatistics and Prevention Institute – EBPI Lunch Seminars. Invited seminar at EBPI, University of Zürich, Zürich, Switzerland
Chiropractic care and risk for acute lumbar disc herniation. Department of Chiropractic Medicine, Balgrist University Hospital, University of Zürich, Zürich, Switzerland
Risk for acute lumbar disc herniation associated with chiropractic care. Canadian Chiropractic Protective Association Medicolegal Conference 2018. Oakville, Canada
Appointments
We would be happy to arrange an appointment with you.
Outpatient chiropractic clinic
Dino Elias Gisler
+41 44 386 57 06
Email