PD Dr. Susanne Becker, PhD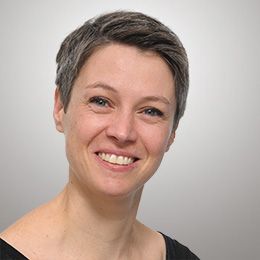 Clinical position
Research Group Leader, SNF PRIMA Grantee
Team
Research chiropractic
Languages
German, English
05/2017 European Pain Federation - Grünenthal Research Grant EGG 2016 Projekt "Altered cognitive-emotional networks in chronic pain: the modulatory role of dopamine"
06/2016 Member of Fast Track Program of the Robert Bosch Foundation two-year intensive training "Excellence and Leadership Skills for Outstanding Women in Science"
10/2014 Award for Young Scientists in Pain Research [NachwuchsFörderPreis Schmerz] German Association for the Study of Pain in cooperation with Janssen-Cilag GmbH
05/2012 Poster Award "Best Clinical Science Poster" 2012 Annual Conference of the Canadian Pain Society
10/2012 Poster Presentation selected as "Hot Topic" Neuroscience 2012 Conference, New Orleans, USA
10/2011 Award for Pain Research [Förderpreis für Schmerzforschung] 2nd place in clinical research, German Association for the Study of Pain-open to all researchers, not only young scientists
06/2010 Best PhD Supervisor in Biopsychology Award of the Young Scientist of the German Association for Psychophysiology and its Application
06/2010 Otto Selz Award for the Best Dissertation in Psychology School of Social Sciences, University of Mannheim, Germany
2019-2021 EUR 139'200 German Research Foundation (DFG, BE 4309/7-1), Psychobiological mechanisms of impaired reward processing in chronic pain
2019-2024 CHF 1'469'431 Swiss National Science Foundation (SNF, PR00P1_179697/1), Feeling pain and being in pain: Mechanisms of emotional-motivational pain processing in health and disease
2018-2021 EUR 280'463 German Research Foundation (DFG, GRK 2350/1), Research Training Group 2350, Project: The Relationship of ACE and Violent Video Gaming: Effects on Pain Perception, Pain-Related Empathy and Aggression Towards Self and Others
2015-2019 EUR 34'990 German Society for Muscle Patients, Quality of life, pain, and neuropsychological symptoms in patients with mitochondriopathies
2017-2019 EUR 30'000 European Pain Federation – Grünenthal Research Grant EGG 2016, Altered cognitive-emotional networks in chronic pain: the modulatory role of dopamine
2017-2019 EUR 200'000 Junior Academy Project Heidelberg Academy of Sciences and Humanities, Understanding and communicating of dynamic changes in perception induced by the interaction of thermal comfort and pain
2015-2017 EUR 76'500 Olympia Morata Program Heidelberg University
2015-2017 EUR 4'670 German Research Foundation (DFG, BE-4309/5-1) Understanding interactions and conflicts between pain and reward: integrating computational and psychological approaches
2015-2017 EUR 282'000 Junior Academy Project Heidelberg Academy of Sciences and Humanities, Thermal comfort and pain: understanding human adaption to interferences by combining psychological, physical, and physiological measurements and methods
2014-2016 EUR 9'520 Baden-Württemberg Foundation, Carrot and stick or how global sensation of comfort and local pain perception interact
2014-2017 EUR 80'000 Baden-Württemberg Foundation, Postdoctoral Fellowship for Leading Early Career Researchers, The pleasure of pain relief: neurophysiological mechanisms of pain relief as reward in healthy people and chronic pain patients
2013-2015 EUR 15'353 IASP (International Association for the Study of Pain) Early Career Research Grant, Pain and reward: Decision-making under conflicting motivations, the role of dopamine, and neural correlates
2013 EUR 8'808 German Research Foundation (DFG, BE-4309/4-1), Return Grant for Reintegration in the German Research System
2012-2014 EUR 11'330 IASP (International Association for the Study of Pain) Collaborative Research Grant, Neural Correlates and the Role of Dopamine in the Interaction of Intrinsic and Extrinsic Reward with Pain Sensitivity
2012 EUR 15'804 German Research Foundation (DFG, BE-4309/3-1), Neuronal Correlates and the Role of Dopaminergic Neurotransmission in the Interaction of Pain Perception and Extrinsic (Monetary) and Intrinsic (Pain Relief) Reward
2010-2011 EUR 38'000 IASP (International Association for the Study of Pain) International Trainee Fellowship
Mechanisms of emotional-motivational pain processing in health and disease
Psychobiological mechanisms of impaired reward processing in chronic pain
Altered cognitive-emotional networks in chronic pain: the modulatory role of dopamine
Quality of life, pain, and neuropsychological symptoms in patients with mitochondriopathies
Talks and media
2019
The intersection of pain and reward: the role of dopamine and alterations in chronic pain. In workshop "New findings in clinical pain research: results from former E-G-G winners. 11th Congress of the European Pain Federation EFIC, Valencia, Spain
Successful career stories: roundtable discussions with PRIMA and Ambizione grantees, Univerisity of Zurich, Zurich, Switzerland
Interview related to online paper "Volkskrankheit Schmerz - und was wir dagegen tun können", Spektrum.de, https://www.spektrum.de/wissen/volkskrankheit-schmerz-und-was-wir-dagegen-tun-koennen/1621522
Körperliche und psychische Lebensqualität, Resilienz und kognitive Beeinträchtigungen. Austausch- und Begegnungswochenende Deutsche Gesellschaft für Muskelkranke (DGM), Lobbach, Germany
Die Interaktion von Schmerz und Belohnung: Wahrnehmung, neurale Korrelate und Veränderungen bei chronischem Schmerz. Workshop "Schmerz als Zeichen", Promotionsschwerpunkt "Resilienzfaktoren in der Schmerzverarbeitung", University of Würzburg and University of Bamberg, Zell am Main, Germany
Körperlich und psychische Lebensqualität bei Patienten mit mitochondrialen Erkrankungen. Fachtage Symposium für Patienten mit mitochondrialen Erkrankungen, Deutsche Gesellschaft für Muskelkranke, Göttingen, Germany
Wahrnehmung und neurophysiologische Grundlagen der Interaktion von Belohnung und Schmerz: ein Weg zu chronischem Schmerz? Klinisch-Psychologisches Kolloquium, Fachbereich Psychologie, University of Gießen, Gießen, Germany
2018
Zu viel Schmerz und zu wenig Belohnungswahrnehmung - ein Weg zu chronischem Schmerz? Forschungskolloquium der Abteilung für Medizinische Psychologie und Medizinische Soziologie, Ruhr-University Bochum, Bochum, Germany
Dopamin und Schmerz: wer belohnt wen? Sertürner Workshop "Schmerz in der Neurologie & Neue Innovationen in der Schmerzmedizin", Einbeck, Germany
Pain and quality of life in patients with mitochondrial diseases. Neurobiology Lectures, Interdisciplinary Center for Neuroscience (IZN), Heidelberg University, Germany
Public Lecture "Körper und Geist: Die Rolle unserer Psyche bei chronischem Schmerz", Evening academy (community education centre), Mannheim, Germany
In-House Training "Pain". Training for Nursing Staff on the Basic of Pain, Quality Circle Meeting, Central Institute of Mental Health, Mannheim, Germany
2017
Die Schöne und das Biest: wie die Interaktion von Belohnung und Schmerz Wahrnehmung und Verhalten beeinflusst. Colloquium of the Department Psychology III, Cognitive Psychology and Individual Differences, University of Mannheim, Mannheim, Germany
Pain perception in patients with Parkinson's disease: an experimental investigation. Colloquium des Institute of Clinical Neuroscience and Medical Psychology, University Hospital Düsseldorf, Heinrich Heine University Düsseldorf, Germany
Neue Wege bei der Therapie von Fibromyalgie: aktuelle psychobiologische Forschung und Zukunftsperspektiven. Fibromyalgie-Tag, Meeting of the self-help group on fibromyalgia in Baden-Württemberg, Waiblingen, Germany
Talk at Self-Help Group Fibromyalgia: "Neue Wege bei der Therapie von Fibromyalgie: aktuelle psychobiologische Forschung und Zukunftsperspektiven", Meeting of the self-help groups on fibromyalgia in Baden-Württemberg, Waiblingen, Germany
Quality of life, pain, and neuropsychological impairments in patients with mitochondrial diseases – The IMP quality of life study pilot in Germany. Annual Meeting of the International Mito-Patients, Cologne, Germany.
Talk for occupational and academic studies orientation for pupils: "Pain – mechanisms and perception", Central Institute of Mental Health, Mannheim, Germany
2016
Modulation of pain perception: the effects of reward, subjective utility, and learning. Faculty of Psychology and Neuroscience, Maastricht University, The Netherlands
Schmerz und Belohnung: die zwei Seiten der (neuralen) Medaille? Pain Network Heidelberg, Nussloch, Germany
Local Newspaper Report [Mannheimer Morgen]: Mechanisms of reward in pain
Lay Summary published on Neuronline - Society of Neuroscience's online forum for learning and discussion; of publication Becker et al. (2015) eNeuro, 2(4) e0029-15.2015:1–11.
2015
Wie sich Schmerz und Belohnung gegenseitig beeinflussen: Wahrnehmung, Verhalten und neurophysiologische Grundlagen. Colloquium of the Department of Psychology, University of Koblenz-Landau, Landau, Germany
When pain and reward are simultaneously present: perception, motivation, and underlying brain mechanisms. Neurobiology Lectures, Interdisciplinary Center for Neuroscience (IZN), University Heidelberg, Germany
Quality of life, pain, and neuropsychological impairments in patients with mitochondrial diseases. Annual Meeting of the International Mito-Patients, Antwerp, Belgium.
Lebensqualität bei Menschen mit Muskelkrankheiten. Meeting of the self-help group metropolian area Rhine-Neckar of the German Society for Muscle patients [Deutsche Gesellschaft für Muskelkranke e.V.], Hospital of the Diakonie Mannheim, Mannheim, Germany
Talk At Self-Help GrouP Mitochondrial Diseases: "Lebensqualität bei Menschen mit Muskelkrankheiten", meeting of the self-help group metropolian area Rhine-Neckar of the German Society for Muscle Patients, Hospital of the Diakonie Mannheim, Mannheim, Deutschland
Phone-In Session and Expert Interview in Local Newspaper [Mannheimer Morgen]
2014
The good and the bad: perceptual effects and neural correlates of the interaction of reward and pain. The first CiNet conference: New directions in pain neuroscience. Center for information and neural networks, Osaka, Japan
Brain mechanisms underlying the pain-reward interaction: neural correlates and the role of dopamine. Colloquium of the Brain Imaging Center Frankfurt, Frankfurt, Germany
The pain-reward interaction: perception, dopamine, and neural correlates. Institute of Neuroscience and Physiology, University of Gothenburg, Sweden
2013
Mechanismenorientierte Schmerztherapie. Psychophysiologie – Implikationen für die Psychologische Schmerztherapie. 15. Jahrestagung der DGPSF (Deutsche Gesellschaft für Schmerztherapie und -forschung E.V.), Marburg, Germany
2009
Increased pain sensitivity induced by operant conditioning. Pain Day – Autumn School, Erlangen, Germany