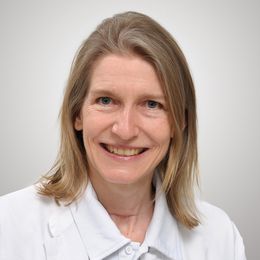 Dr. med.
Monique Simon
Consultant Anesthesiology
Languages
German, English, Italian
Specialisation
Anesthesiology
Honors and awards
2019: Certified advanced training course "Special Pain Management" as well as obtaining the title "Pain Specialist SGSS (new SPS)"
2010: Acquisition of the certificate of competence for emergency physicians SGNOR
2007: Specialist title in anesthesiology FMH
Academic career
2000: Appointment as Doctor of Medicine, University of Zurich
Studies
1993–1999: Medical studies, University of Zurich
Professional career
​​​​​​Since April 2021: Consultant, anesthesiology, Balgrist University Hospital, Zurich
2019–2020: Specialist in anesthesia, Swiss Medical Network, Privat Klinik Belair, Schaffhausen
2014–2019: Specialist in anesthesiology, Hirslanden Klinik Belair, Schaffhausen
2013–2018: Self-employed specialist in anesthesiology in outpatient ophthalmic surgery
2007–2018: Consultant, anesthesia, pain and complementary medicine, Bülach hospital
Postgraduate
​​​​​​2006–2007: Resident in anesthesiology and intensive care, Heart and Neuro Center Lake Constance, Kreuzlingen and Konstanz
2005–2006: Resident in anesthesiology, Spital Thurgau AG, Münsterlingen
2002–2004: Resident in anesthesiology and cardiac intensive care, University Hospital Zurich
2001–2002: Resident in anesthesia, Cantonal Hospital Aarau
2000–2001: Resident in Internal Medicine, Zimmerberg Hospital
Memberships
FMH (Swiss Medical Association)
VSAO (Association of Swiss Assistant and Senior Physicians)
AGZ (Medical Association of the Canton of Zurich)
ESRA (European Society of Regional Anaesthesia)
SPS (Swiss Pain Society (formerly SGSS))
SANTH (Swiss Medical Society for Neural Therapy)
Anesthesia
Prof Dr Urs Eichenberger and his team use the latest anesthetic techniques for patients of all ages, including children, to provide optimal conditions for smooth and pain-free surgery, as well as recovery from the operation with no complications and minimal pain. Once patients have left the operating theatre, the team continues their care in the recovery room, on the intensive care unit, on the ward, and in subsequent anesthetic and pain clinics.