Balgrist Orthopedic Emergency Clinic
Balgrist University Hospital offers orthopedic expertise for emergency initial assessment, initial diagnosis and initial treatment.
Registering an emergency / reception
We kindly ask patients or referring doctors to register an emergency with the clinic by calling +41 44 386 51 51. Patients should please report to reception when they arrive.
If the situation is not medically urgent, we offer appointments during our regular orthopedic consultation hours.
For diagnoses that do not relate to the locomotor system (e.g. a stroke or heart attack) we will forward your registration to an emergency hospital.
Children under 6 years of age are referred to the University Children's Hospital Zurich. Children 6 years and older with isolated problems of the musculoskeletal system are treated at our emergency.
Important documents
If possible, please bring the following documents with you:
Identity card or passport
Insurance card (health insurance, accident insurance)
Doctor's reports, imaging, laboratory results
Allergy, blood thinning, pacemaker passport
Medications in original packaging or list of medications taken
Living will
Orthopedic emergency clinic
Your musculoskeletal complaints:
Injuries caused by accidents or overuse
Acute pain and functional limitations
Sudden worsening of chronic situations
Our highly specialized orthopedic expertise:
Initial assessment and diagnosis
Emergency first aid and initiation of treatment
Initiation of further investigations
Treatment spectrum
We treat the following clinical pictures with acute or subacute pain, functional limitation or following an injury without risk to life:
Accident-related – so-called traumatic – injuries such as a dislocated or separated joint, torn ligaments and tendons or bone fractures
Acute pain of the cervical spine, thoracic spine or lumber spine – so-called cervicalgia, thoracalgia and lumbago
Acute joint pain with and without signs of inflammation – so-called arthralgias and arthritides
Inflammations near a joint endoprosthesis or an implant, also described as periprosthetic joint infections
Fatigue fractures, often also referred to as insufficiency fractures
Damage caused by degradation of ligaments or tendons - so-called degenerative ligament and tendon lesions
Frequently asked questions
Can waiting times be expected?
Waiting times may occur in an emergency ward. We try to keep these as short as possible and keep you and your relatives informed of the approximate waiting time.
Does my insurance class matter in an emergency?
When it comes to emergency treatment, insurance class does not matter. Every emergency patient is treated equally within his or her triage category.
Are relatives allowed to come along?
In principle, an accompanying person may stay with the patient.
Are there catering facilities?
The cafeteria is located in the immediate vicinity. However, emergency patients should only eat or drink after consulting the responsible nurse or doctor.
Team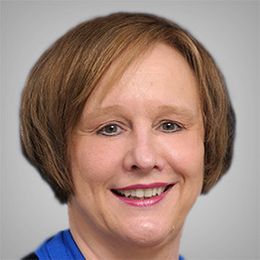 Head of Special Areas Nursing