Latest news and press releases
During shoulder joint surgery, acne bacteria can enter the surgical field and cause devastating infections of the shoulder joint. Applying a commercial acne cream to the shoulder area before the operation can prevent this. This was the finding of a study conducted in Balgrist University Hospital, which has been awarded three prestigious prizes.
Read more
Balgrist University Hospital is opening the Ingenuity Lab for innovation in medical materials and technologies with a focus on orthopedic soft tissue research.
Read more
Balgrist University Hospital has opened OR-X (Operating Room X), its new surgical research and teaching center. In attendance at the opening were guests from the world of politics, healthcare, industry and medicine.
Read more
The OR-X translational research center has reached its next milestone: after only 15 months of construction, the infrastructure is ready for test operations. It has been handed over by the project management team to the users at Balgrist University Hospital.
Read more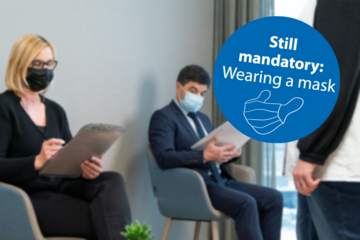 Obligation to wear masks in case of cold symptoms
We ask all persons with cold symptoms to protect others from infection. Thank you for wearing a hygiene mask throughout the hospital.
Read more
Balgrist University Hospital and the AO Foundation are entering into a collaboration to create synergies in the areas of research, innovation, and education.
Read more
Founded in 2017, the University Spine Center Zurich has been certified a "Surgical Spine Center of Excellence" by the spine society EuroSpine.
Read more
The Swiss Innovation Agency (Innosuisse) is supporting the PROFICIENCY project with 6 million Swiss francs. The project constitutes a paradigm shift in education and training for surgeons. Innovative, simulator-supported practical training will replace advanced training in the operating room.
Read more
Construction work starts today on the OR-X, the new Translational Center for Surgery at Balgrist University Hospital. The test phase for the OR-X will be launched in the first quarter of 2023.
Read more
Thanks to a cutting-edge new surgical technique, a patient with Dropped head syndrome was successfully treated without the necessity of me-tallic implants and fusion. The surgical technique was developed at the University Spine Center Zurich.
Read more
Research and technology leads to cutting-edge orthopedic medicine
Balgrist University Hospital is a university hospital dedicated to patients with musculoskeletal disorders. For the medical director, Prof. Mazda Farshad, MD, it is clear: "We want to remedy musculoskeletal problems and improve the quality of life of our patients. The mission as a university hospital is to be responsible for the evolution of the future of musculoskeletal medicine." Also thanks to the use of technology. On our focus page, you can learn how we use technologies such as artificial intelligence or augmented reality to improve patient care.
Orthopedics and cutting-edge medicine
We provide you with an excellent medical service. At Balgrist University Hospital you will be cared for by a team of renowned, internationally recognised specialists in musculoskeletal and spinal damage and pain.
Paraplegia: Treatment in a family setting
Our spinal cord injury centrer provides comprehensive medical care for patients with spinal cord injuries. We are closer to research, the therapies of tomorrow, and closer to life – with a family atmosphere.
Balgrist Privé: Meeting the highest standards
The private wards at Balgrist offer you a well-coordinated range of services of a very high standard. Our core competencies: medicine, nursing care, therapy, hotel services and comfort.