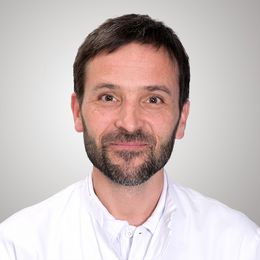 Dr. med.
David Lorenzana
Team Leader Pain Therapy
Languages
German, Spanish, English, French
Specialisation
FMH Anesthesiology
Interventional Pain Therapy SSIPM
Specialist in Pain Management SGSS
Specialist in Point of Care Ultrasound (POCUS) SGUM
Emergency Physician SGNOR / Senior Emergency Physician SFG
Studies
1994 - 2001 Studied medicine and passed state final examinations, University of Zurich
Postgraduate
Since November 2019 Senior Consultant, Anesthesiology; Head of Ambulatory Pain Therapy, Balgrist University Hospital, Zurich
01 - 10/2019 Consultant, Anesthesia; Deputy Head of Pain Therapy, Responsible for Regional Anesthesia, Lucerne Cantonal Hospital, Lucerne
03/2011 - 12/2018 Fellowship in Pain Therapy (Neuromodulation), Lucerne Cantonal Hospital, Lucerne
2012 (4 months) Junior Consultant, Anesthesiology, Department of Pain Therapy, Valencia University Hospital, Spain
2009 (12 months) Junior Consultant, Anesthesiology, Grabs Hospital
Resident 2002 - 2011
Traumatology (12 months), Zurich University Hospital, Zurich
Internal Medicine (12 months), Hospital Limmattal, Schlieren
Anesthesia (12 months), Limmattal Hospital, Schlieren
Emergency physician with Rega (12 months), Nordbünden Mountain Base, Untervaz
Anesthesia (26 months), Lucerne Cantonal Hospital, Lucerne
Degrees / Diplomas
2001 Qualified as a physician, Switzerland
2002 Doctoral dissertation, Faculty of Medicine, University of Zurich
2005 Specialist in Emergency Medicine SGNOR
2012 Diploma Senior Emergency Physician CEFOCA-SFG
2012 Specialist in Anesthesiology FMH
2012 Certificate of Competence, High-dose Radiology
2012 Specialist in Interventional Pain Therapy SSIPM
2015 Specialist in Pain Medicine SGSS
2018 Specialist in POCUS (Point of Care Ultrasound) SGUM (Leader of POCUS course – in subjects of Interventional Pain Therapy, Regional Anesthesia and Vascular Puncture)
Anesthesia
Prof Dr Urs Eichenberger and his team use the latest anesthetic techniques for patients of all ages, including children, to provide optimal conditions for smooth and pain-free surgery, as well as recovery from the operation with no complications and minimal pain. Once patients have left the operating theatre, the team continues their care in the recovery room, on the intensive care unit, on the ward, and in subsequent anesthetic and pain clinics.