Orthopedics Research
At Balgrist Orthopedic University Hospital, we perform both experimental and patient-related research. Researchers, clinicians, and developers work together on the Balgrist Campus to reduce or resolve the problems faced by patients suffering from disorders of the musculoskeletal system.
Researchers in the orthopaedic research laboratories study disease mechanisms using in vitro and animal models as well as living tissue and focus on a more detailed understanding of the disease processes such as metastasis of tumours, the undesired development of cells that form cartilage or bone or the deterioration of muscle cells. The aim of experimental orthopedic research is to significantly improve the curative treatment of patients and to eventually prevent devastating disease processes such as tumour metastatsis. In the event that very promising new methods – which are safe for the patient – are found and developed, they undergo clinical testing subject to the strictest scientific and ethical criteria. Should they prove successful, they will also be made available to other medical facilities.
Shoulder and elbow
Rotator cuff tears lead to painful restricted function of the arm and time off work: What causes rotator cuff tears? What preventative measures are needed, and what treatment is effective?
Secondary changes after rotator cuff tears, especially in the muscles, are progressive and irreversible: the aetiology and molecular mechanisms involved in the fatty infiltration of muscles. Can we reverse these changes?
Which ruptured tendons need surgical repair? Which ones should be treated differently?
Shoulder joint prostheses have advanced considerably, with the optimal selection and implantation of the replacement shoulder joint and analysis of the long-term results, also as regards their combination with additional procedures such as tendon grafting.
Spine
One component of highly specialised university spine surgery is a scientific and analytical way of thinking and a procedure based on the existing evidence. Determining new findings depends on an understanding of existing knowledge and ensures that treating surgeons are always up to date.
The scientific goals of spine surgery at the Balgrist University Hospital are:
answering open clinical questions in direct clinical application. The team is focussing on the predictability of therapeutic success using the latest technology and on innovative surgical techniques based on considerations of patient-specific anatomy/pathology and kinematics.
patient-specific simulation and risk reduction of surgical procedures. Our unique cooperation with engineers, biomechanics, biologists, IT specialists, and other disciplines (Balgrist Campus) makes all this possible.
Hand
Potential and feasibility of computer-assisted surgery in trauma: use in fractures from the CARD technology experience gained with osteotomies
Mechanisms of forearm instability and stiffness: development of a bone/soft tissue model of the forearm
Standard implants not compatible with anatomical differences: optimisation of standard plates for patient-specific implants
Hip
Greater trochanteric pain syndrome (GTPS): natural course of hip abductor tendinopathy
Anatomical reconstruction with total hip joint replacement: 3D planning and navigation in primary total hip joint replacements
Knee
Instability: patellofemoral joint. When is surgery needed and which operation?
Cartilage: How can we slow down the development of osteoarthritis?
Instability: anterior cruciate ligament (ACL) injuries Osteolytic reaction after repairs
Early osteoarthritis: osteotomies How much correction and effect on gait? Regenerative treatment
Pain after total knee joint replacement Kinematics and gait analysis, ligament balancing, and coordination
Foot
Corrective osteotomies: relevance of CARD and extended reality
Treatment of focal cartilage damage: long-term results with autologous matrix-induced chondrogenesis (AMIC) repairs
Tendon disorders: treatment of Achilles tendinopathy
Charcot
Technical Orthopedics
Research on the pathological mechanisms in Charcot's foot: Is a Charcot protein responsible for disease progression?
Personalised treatment for poorly healing wounds: What is the ideal material for wound therapy, when to use it, and for whom?
Development of sensory prostheses: Can specific neurological stimulation relieve phantom pain?
Tumors
Definition of tumor size and activity: What are the right tools for predicting tumor activity?
Intraoperative safety and precision in tumour resection: How can the planning and performance of cancer surgery be improved with technical aids?
Translational research
Improved systemic treatment of patients with sarcoma: measurement of cancer cells in the blood ('liquid biopsy') for early diagnosis and determination of prognosis, as well as for monitoring the response to treatment.
Research in Orthopedic Comuter Science
Functional preoperative planning: necessity of predicting the patient's postoperative function
Automation: reducing costs with computer-assisted surgery
New indications: improved outcomes by using navigation for more surgical procedures
Musculoskeletal Epidemiology
Epidemiology and biostatistics
Randomised clinical trials and comparative effectiveness
Knowledge synthesis
Implementation science
Patient and public involvement
Patient centred musculoskeletal health and care epidemiology
Research into infectious diseases and hospital hygiene
Balgrist University Hospital carries out both clinical and laboratory-based research into (orthopedic) infections. We work together with the Zurich University Hospital, various teams within our own hospital, the Unit for Clinical and Applied Research (UCAR), and other research groups both at home and abroad. Our focus is on the epidemiology, diagnostic investigation, and optimizing treatment of these infections. Prevention and hospital hygiene are also extremely important aspects.
Contact
UCAR – Unit for clinical and applied research
We look forward to hearing from you.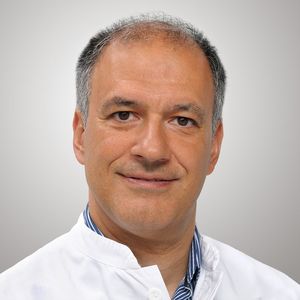 Prof. Dr. med. Ilker Uçkay
Head of Clinical and Applied Research
Secretariat UCAR
+41 44 510 73 71
Email
Videos about research and science projects (broadcasted in German)
Hightech in the operation theatre