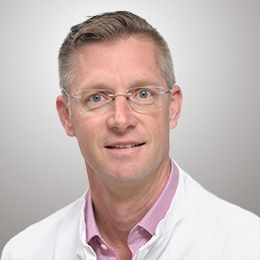 Dr. med.
Jan Burkhard
Senior Consultant Internal Medicine
Languages
German, English, French, Italian
Honors and awards
1998 Award of doctorate, receiving the semester prize, dissertation on the subject of the effect of epidural anaesthesia on umbilical artery pH, the progress of birth and cardiotocogram
University degree
1996 Swiss Federal State Examination, University of Zurich
Postgraduate
2002 - 2007 Consultant, Internal Medicine, Zollikerberg Hospital
2004 Advanced Cardiovascular Life Support
2002 FMH Internal Medicine
2001 - 2002 Medical Polyclinic, University Hospital Zurich
1999 - 2001 Internal Medicine, Triemli City Hospital, Zurich
1998 - 1999 Surgery, Davos Hospital
1997 - 1998 Internal Medicine, Zollikerberg Hospital
Memberships
Swiss Society of General Internal Medicine (SGIM)
Swiss Medical Federation (FMH)
Publications
Malign neuroleptic syndrome after 30 years of treatment with Clozapine: A rare differential diagnosis on the Intensive Care Unit. Anaesthesia intensive medical emergency medical pain treatment (ains 2006; 41: 125 - 127)
Recognising and minimising the risk of falls. Answers to questions arising from professional practice (Cura Viva 2006)
Contact
If you have any questions, Tamara Steiner is on hand to help you.
General internal medicine and medical services
If any medical conditions exist before major surgery, our patients can count on assessment and care from Dr Jan Burkhard and his team. The department also ensures postoperative medical care on the wards.