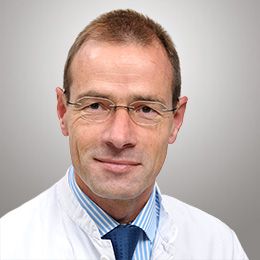 PD Dr. med.
Martin Schubert
Senior Consultant Neurology
Languages
German, English, French
Academic position
Assistant professor; Venia legendi post-doctorate university teaching qualification awarded by the University of Zurich
Specialisation
Diseases of the spinal cord and peripheral nerves
Movement disorders and spasticity
Treatment with botulinum toxin
Honors and awards
2008 Ludwig-Guttmann-Preis of the "Deutschsprachige Medizinische Gesellschaft für Paraplegiologie" (DMGP) for "Spontaner Verlauf der Tibialis SSEP nach traumatischer Querschnittlähmung: Grundlagen für klinische Studien".
University degree
1993 Albert Ludwigs Universität Freiburg i.Br.; medical state exam
Postgraduate
2006: Licensed Specialist in Neurology (Switzerland, FMH)
2003: Licensed Specialist in Neurology
since 2003: Movement Disorder Ambulance, Application of Botulinum Toxin
2003 - 2004: EMG-Specialization
2002 - 2003: EEG-Specialization
2000 - 2001: Specialization in cranial Dopplersonography
2000 - 2002: Neurological Intensive Care Unit and Stroke Unit: Department of Neurology and Neurophysiology, Universitätsklinik Freiburg i.Br.
1999 - 2000: Psychiatry: Dep. of Psychiatry, Universitätsklinik Freiburg i.Br.
1996 - 1999, 2000 - 2003: Neurology: Department of Neurology and Neurophysiology, Universitätsklinik Freiburg i.Br.
1994 - 1996: Neurology, Paraplegiology, Balgrist University Hospital
Memberships
German Society of Clinical Neurophysiology and Functional Imaging
Swiss Society of Neuroscience
German Continence Society
Scientific projects
Neurophysiology and motor plasticity in spinal cord injury and training: Cortical and spinal pathophysiology im movement disorders.
"European Multicenter Study about Spinal Cord Injury" (EMSCI), coordinator / clinical lead
Since November 2006 Clinical Manager EUCTN (European Clinical Trials Network)
Co-supervision of the clinical phase I study of Nogo-A antibody treatment for acute spinal cord injured at the Balgrist University Hospital along with six other EM-SCI / EUCTN centres.
Reviewer and editorial board activities
Reviewer for
Clinical Neurophysiology, Experimental Brain Research, European Journal of Neuroscience, European Journal of Applied Physiology, Gait & Posture, Movement Disorders, Journal of NeuroEngineering and Rehabilitation, ACM Transactions on Applied Perception (TAP), Journal of Spinal Cord Medicine, Neurorehabilitation and Neural Repair, Spinal Cord
Scientific Consultant (2007, 2008)
ESA (European Space Agency), ISRT (International Spinal Research Trust), Wings for Life Foundation
Publications
Contact
We would be happy to arrange an appointment with you. For questions we remain at your disposal.