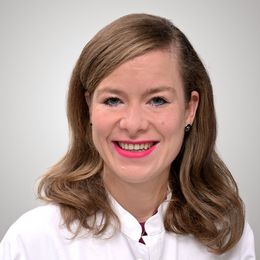 Dr. med.
Simone Hermatschweiler
Consultant Anesthesiology
Languages
German, English, French, Spanish
Specialisation
Anaesthetics, FMH
Awarded title of Praktische Ärztin
Pain Specialist, SPS
Graduate
2014 FMH Anaesthetics
2014 Awarded title of Praktische Ärztin
Academic career
2011 Awarded degree of Doctor of Medicine, University of Zurich (Die Frozen Shoulder nach einfacher Prellung der Schulter oder des Oberarmes – Merkmale, Verlauf, Outcome [Frozen shoulder after contusion on the shoulder or upper arm – characteristics, progress, outcome])
University degree
2008 State final examinations, University of Zurich
Studies
2002-2008 Studied Medicine, University of Zurich
Continuing professional development
2017 10th certified CPE course "Advanced pain management" and awarded SGSS title of Pain Specialist
Professional career
Since 2017 Consultant in Anaesthetics Balgrist University Hospital, Zurich
2016-2017 Consultant, Interdisciplinary Emergency Medicine, St. Anna Hospital, Hirslanden Group, Lucerne
2014-2016 Consultant, Anaesthetics and Intensive Care, Cantonal Hospital, Zug
Postgraduate
2011-2014 Specialty Trainee/Specialist, Zurich University Hospital (six-monthly rotations in Cardiac Anaesthetics, Cardiovascular Surgery Intensive Care Unit, Children's Hospital, Zurich)
2009-2011 Specialty Trainee in Anaesthetics Cantonal Hospital, Winterthur (worked as emergency doctor, completed the ACLS course, emergency doctor course, and PALS course)
Degrees / Diplomas
Specialist in Anaesthetics (FMH)
Awarded title of Praktische Ärztin
Pain Specialist, SGSS
Memberships
Swiss Medical Association (FMH)
Swiss Society of Hospital Doctors (VSAO)
Swiss Society for the Study of Pain (SGSS)
Anesthesia
Prof Dr Urs Eichenberger and his team use the latest anesthetic techniques for patients of all ages, including children, to provide optimal conditions for smooth and pain-free surgery, as well as recovery from the operation with no complications and minimal pain. Once patients have left the operating theatre, the team continues their care in the recovery room, on the intensive care unit, on the ward, and in subsequent anesthetic and pain clinics.