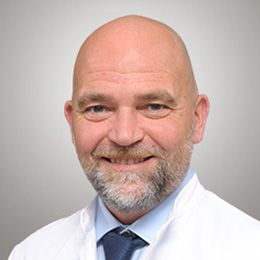 PD Dr. med.
Stephan Wirth
Head of Foot and Ankle Surgery
Head of University Foot Center
Languages
German, English
Academic position
Privatdozent, Faculty of Medicine, University of Zurich
Specialisation
Expert in 3D computer-supported analysis of bone malpositions
Operation planning and manufacture of individualised intra-operatively usable targeting devices for drilling and sawing
Treating fractures in the lower leg, ankle joint and foot
Treatment with Ilizarov apparatus
Graduate
2012 FMH Orthopaedic Surgery and Traumatology of the Musculoskeletal System
1999 2nd State Examination in Human Medicine
1996 1st State Examination in Human Medicine March
1995 Pre-medical Examination March
1993 Degree in Human Medicine at Ludwig Maximilian University of Munich, Technical University of Munich
Postgraduate
Since January 2015 Team Leader Foot and Ankle Surgery
October 2013 - December 2014 Deputy Team Leader, Foot and Ankle Joint surgery
January 2012 - September 2013 Consultant, Orthopaedics
January 2008 - December 2011 Locum Consultant, Orthopaedics
August 2007 - December 2007 Junior doctor, Orthopaedics, Balgrist University Hospital, Zurich, Switzerland
August 2006 - July 2007 Junior doctor, Trauma Surgery University Hospital, Zurich, Switzerland
May 2005 - July 2006 Junior doctor, Orthopaedics, Balgrist University Hospital, Zurich, Switzerland
January 2002 - April 2005 Junior doctor, Orthopaedics/Traumatology, Oberengadin Hospital, Samedan, Switzerland
Memberships
President Expert Group Foot and Ankle Swiss orthopaedics (SO)
International Member AOFAS (American orthopaedic foot and ankle Society)
Member AOFAS research committee
Member AGA foot and ankle committee
Swiss Foot and Ankle Society (SFAS)
Member EFAS (European foot and ankle society)
International Member AAOS (American Academy of orthopaedic surgeons)
SGOT (Swiss Society for Orthopaedics and Traumatology)
VSAO (Swiss Association of Junior Doctors and Consultants)
Federatio Medicorum Helveticorum (FMH) (Swiss Medical Federation)
Scientific projects
CARD (Computer assisted research and development)
Biomechanics of the ankle joint and foot
Other activities
Director of the 3D / Video Department
Member of Apple Developer Connection since 1994
References
Appointments
We are happy to arrange appointments on site or online for Tuesday and Thursday.
You can reach us as follows:
Monday until Friday
8.30 a.m.–12 noon
1 p.m.–5 p.m.
PD Dr Stephan Wirth and his team specialize in diseases and injuries of the foot and ankle. These include sporting injuries and the complications that may follow. Thanks to intensive research work, surgical techniques at Balgrist University Hospital are constantly being developed, and their success reflected by the continuing improvement in results.