Spine surgery of university standard
Our goal is to provide patients with the best possible support. Where the spine is concerned, decisions for surgery have to be considered particularly carefully, taking all relevant factors and the prognosis into account.
State-of-the-art surgical techniques
Whenever an operation is necessary, our highly experienced spine surgeons, led by Prof. Mazda Farshad, employ state-of-the-art surgical techniques. All the units involved in treatment (surgery, neurology, anesthesia, radiology, nursing care, physiotherapy etc.) specialize in the tertiary care of problems affecting the spine.
Focus areas
Besides treating degenerative changes in the entire spine, the team operates on conditions in the neck, childhood deformities, and tumors. The team also deals with spines that have been operated on previously. We work together with neurologists at the Spinal Cord Injury Center, who specialize in conditions affecting the spinal cord. This close cooperation, unique to Zurich, allows us to carry out accurate work-ups and, whenever necessary, monitor the spinal cord and nerves during operations.
The department of spine surgery specializes in:
Results of wear and tear on the spinal column (degeneration, instability, etc.)
Prolapsed vertebral discs, in the lumbar region but also in the cervical and thoracic spine
Narrowing of the spinal canal
Complex deformities of the spine in children and adults
Tumors and inflammation of the spine
Injuries to the spine
Revision surgery after previous operations on the spine
Responsibility
Quality control, innovation, a scientific approach, continuously developing the latest findings and employing cutting-edge technology are standard in this hospital. As a university department of spine surgery, we take our responsibilities for evidence-based medicine in the investigation and treatment of our patients very seriously and, as a tertiary care hospital, we perform extremely complex procedures on the spine.
Here for you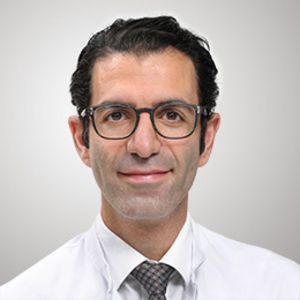 Prof. Dr. med. Mazda Farshad
Head Physician Spine Surgery
Director Spine Center
Appointments
+41 44 386 16 00
EMail
The spine is a key component of the human body and spine surgery is correspondingly important at Balgrist University Hospital. The experienced surgical team led by Prof. Mazda Farshad specialise in the entire spectrum of treatment for diseases and injuries of the spinal column, providing patients with optimal support.