Physiotherapy Technical Orthopedics, Rehabilitation, Day Clinic
Patients come to us after having a lower limb amputated so that they can relearn important functional activities for daily life – particularly walking. Our interdisciplinary team consists of experts from various disciplines and is specialized in the complex treatment required after major amputations (removal of the thigh or lower leg).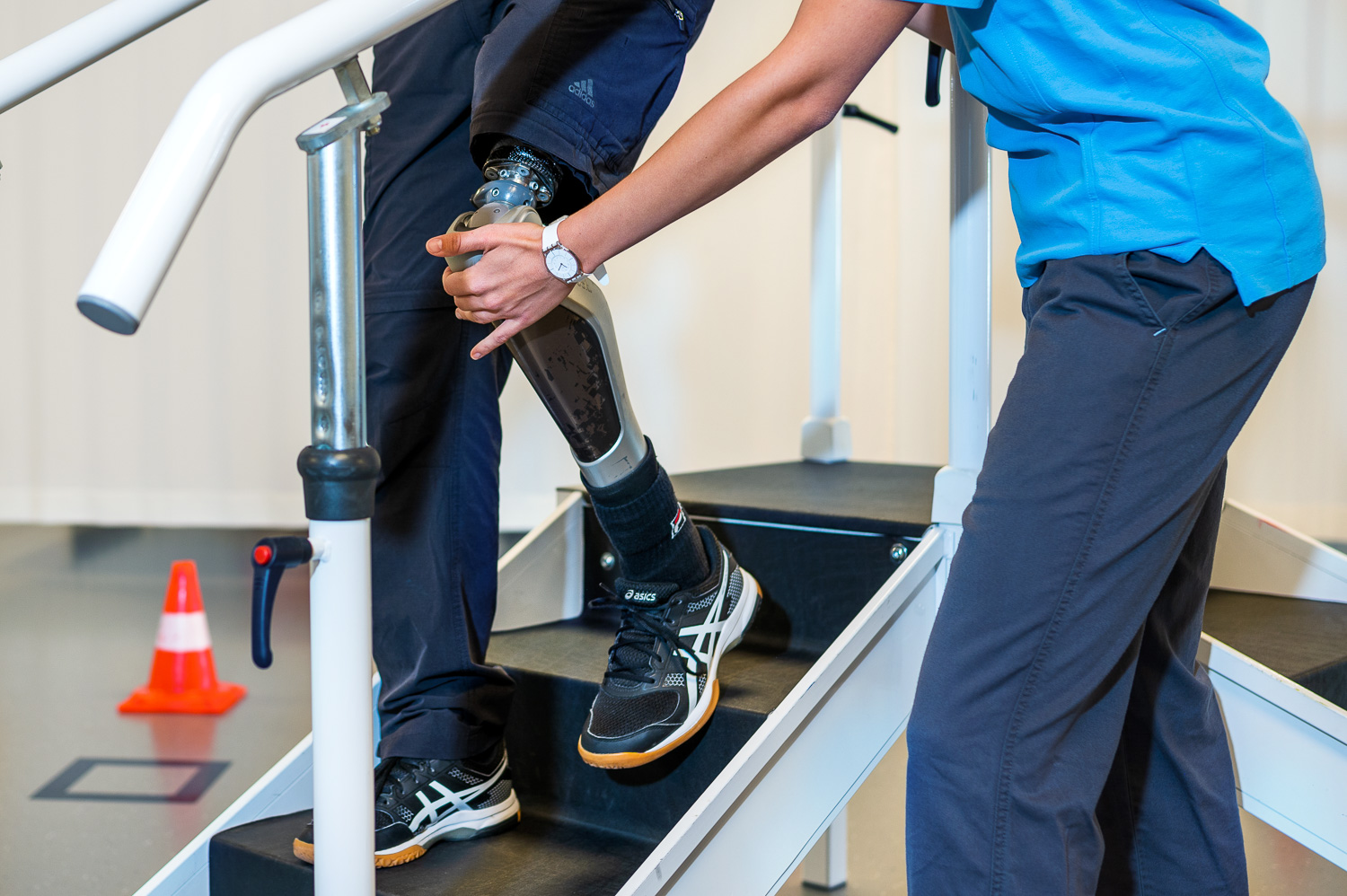 Physiotherapists, occupational therapists, orthopedic technicians, doctors, wound specialists, diabetes consultants – and further specialists as required – work together to address your situation, daily requirements and medical history (anamnesis). It goes without saying that we are familiar with all types of prostheses and their characteristics and can help you get back to enjoying an active life.
Individual treatment
You'll be referred to us after being examined and treated by the medical team in the Technical Orthopedics department. We support and advise you with your rehabilitation after an amputation of the upper or lower leg and gait instability.
We provide particular support to our patients who have been amputated above the knee as they learn and optimize the gait cycle with their prosthesis and its characteristics. We also provide our knowledge and expertise in treating pain – particularly phantom limb pains.
Outpatient and inpatient gait training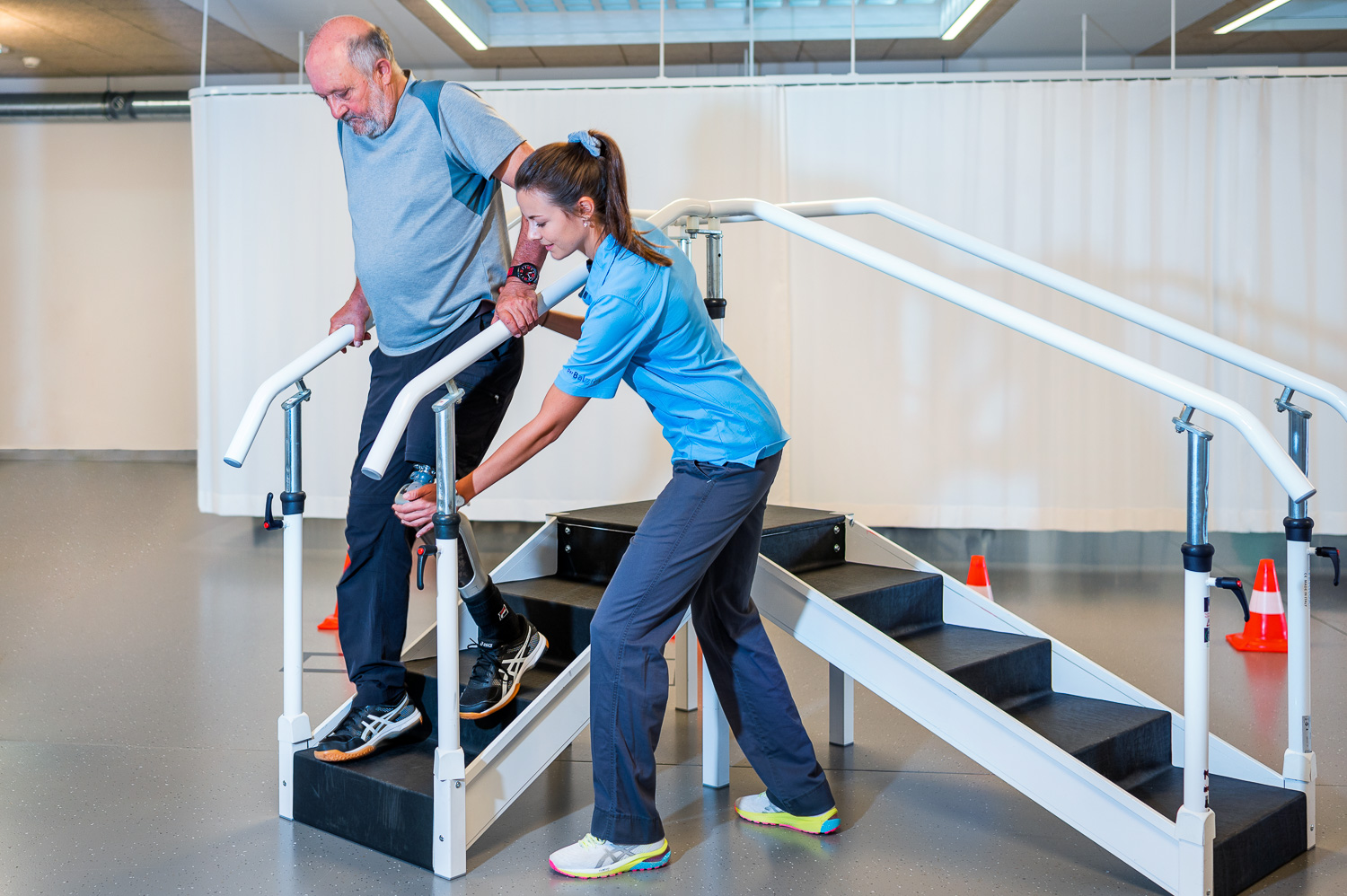 Patients learn how to manage their prosthesis from A to Z following a lower or upper leg amputation. They learn how to cope with both routine and challenging situations. They also meet other patients who are facing the same challenges and following similar goals.
Outpatient gait stability group
We'll teach you in the group how to overcome difficult situations if you're unsteady walking and there is a risk of falling. This includes walking on uneven surfaces or while carrying objects. Together with other people you'll regain confidence in your body and achieve your personal goals step by step.
Medical Training Therapy (MTT)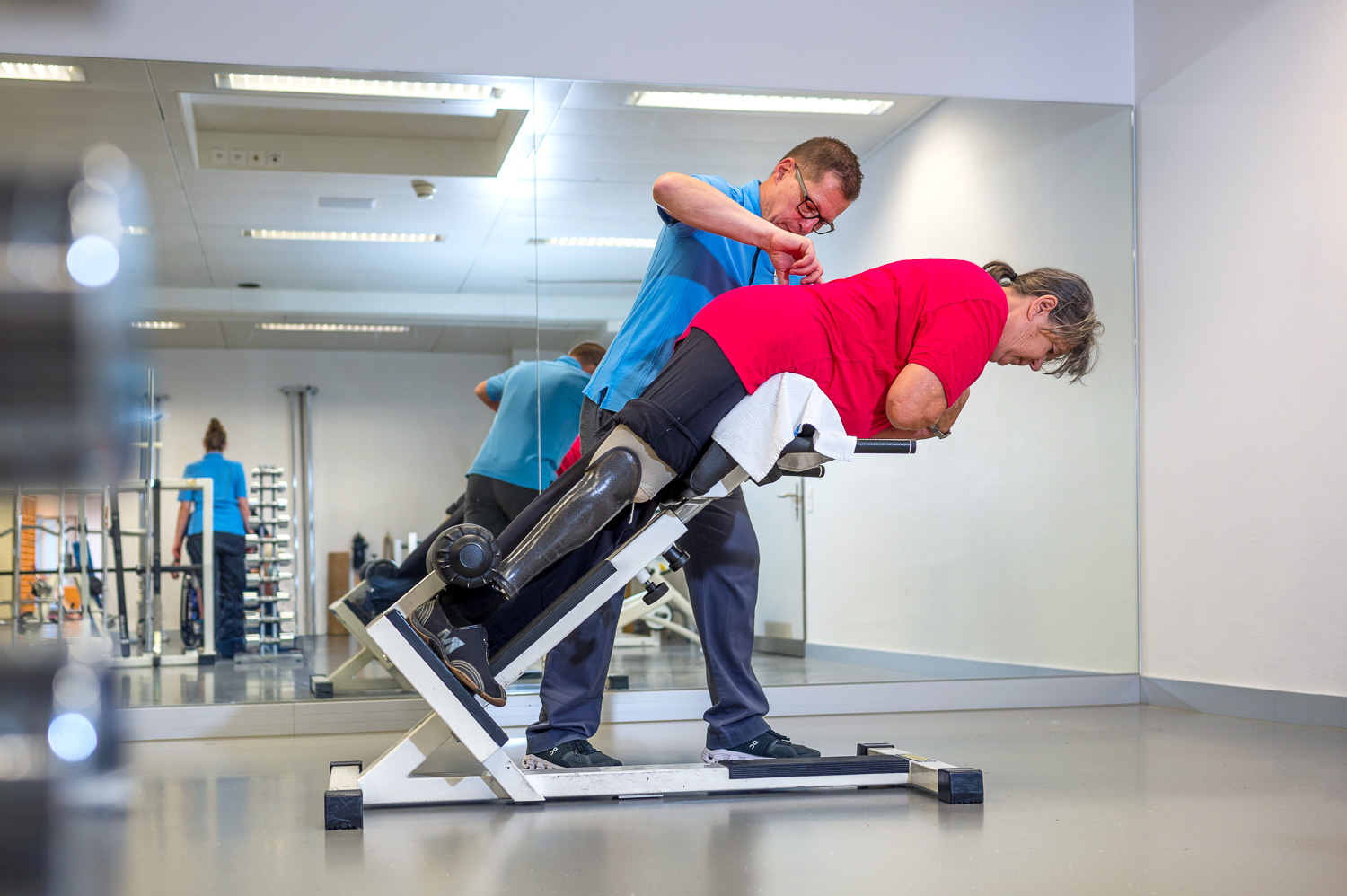 Specialized sports physiotherapists will take care of you when the rehabilitation is at an advanced stage and you are more physically resilient. We attach a lot of importance to strengthening your entire locomotor system to reinforce your stability while walking and standing and the torso muscles. Many of our sports physiotherapists practice one or more sports themselves. They therefore know all about the physical and mental aspects of your discipline and target these to help you get back into your daily routine and maybe even your sporting activities.
Therapy knowledge – Technical Orthopedics
Autor: Manuel Bischofberger, Team Leader Technical Orthopedics.
Fall prevention – assessment and treatment options
As we get older and after an amputation of lower limbs, falls and the fear of falling are omnipresent. Our treatment approach includes an assessment to evaluate your current situation and identify risk factors. We address these in detail and treat any deficits.
Over 50% of patients with an amputation and just as many elderly people have already experienced a fall or are constantly afraid of falling. The main reasons for this are restriction in balance, coordination and strength. On the one hand, the fear of falling means that people might completely avoid dangerous situations. However, this has the negative effect of them suddenly no longer undertaking certain activities even they would still physically be able to do so. It's all about people finding a balance and not being overly cautious so as not to weaken their self-efficacy (the conviction of being able to achieve something by oneself).
Explanation of the fall prevention assessment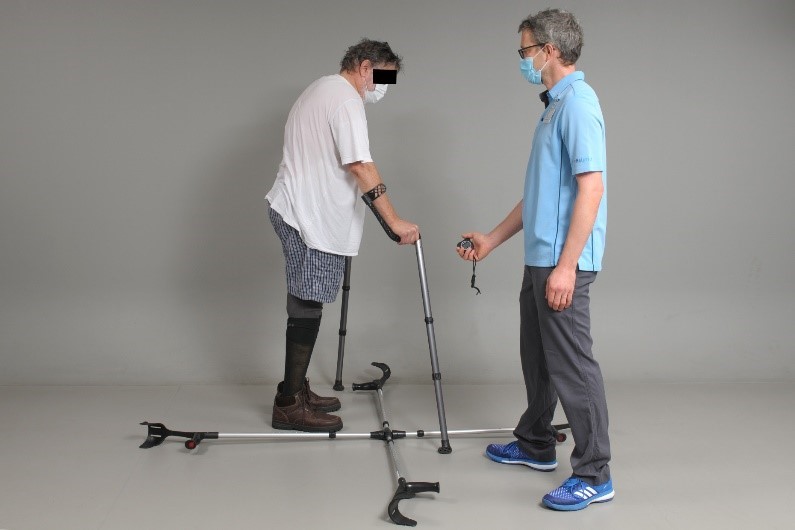 After a thorough review of the findings and a targeted assessment with questionnaires and tests, we identify which restrictions in movement, physical deficits and fears are patients are experiencing. We assess your various skills and abilities by analyzing your movement patterns e.g. when standing up. We focus on both day-to-day and challenging activities. This enables us to find out how you handle the clinical environment, what you would already be able to do back at home and what needs to be improved.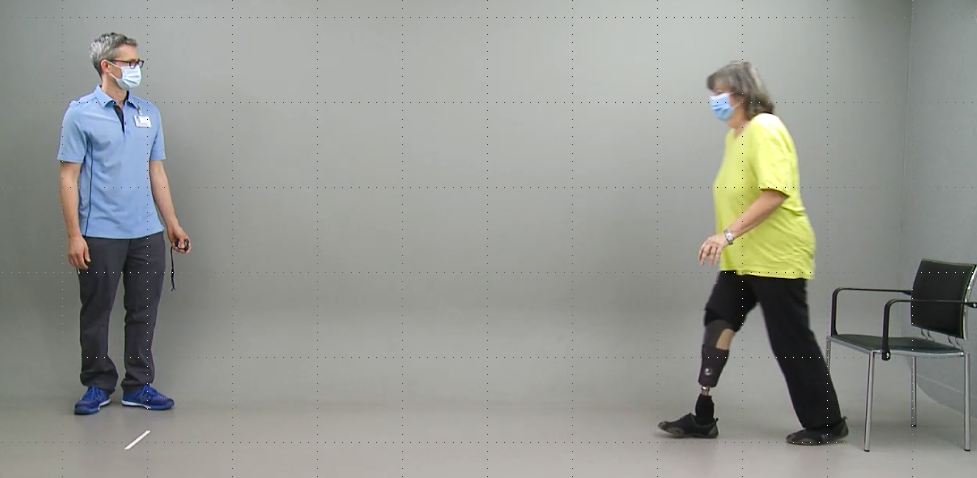 We will discuss the results of the assessment with you and advise you on the equipment available to help you with walking and moving around. You can, of course, try out the various walking aids in the hospital.
Treatment options
We create your own personal treatment concept based on the assessment findings. There are various options available for overcoming the various deficits: individual therapies, outpatient group therapies or Medical Training Therapy. We work on your weaknesses together, practice activities associated with a risk of falling in a safe environment and thus strengthen your confidence in your own balance ability. To give you greater confidence as you go about your daily life, we will also teach you how to get back up again if you do suffer a fall.
Studies on fall prevention
There is clear evidence that strength and balance training can reduce the risk of falling. Individuals over the age of 50 were recorded in the corresponding study1. Mobility and stamina also need to be improved as well as strength and balance.
In order to clarify and evaluate the risk of an individual falling, we use well-known tests and methods 2 that have been deployed around the world and also at Balgrist University Hospital for many years.
References
1 Tofthagen C, Visovsky C, Berry DL. Strength and balance training for adults with peripheral neuropathy and high risk of fall: current evidence and implications for future research. Oncol Nurs Forum. 2012;39:E416-24.
2 Shumway-Cook A, Brauer S, Woollacott M. Predicting the probability for falls in community-dwelling older adults using the Timed Up & Go Test. Phys Ther. 2000;80:896-903.