Occupational Therapy in Paraplegia and Tetraplegia
The main focus of our treatment lies on reintegrating patients with spinal injuries into daily life. Our occupational therapists are part of a multidisciplinary rehabilitation team who concentrate on helping you to act as independently as possible.
Our offer
We use a variety of therapeutic measures, training sessions and consultations to smooth your way back into a largely autonomous private and professional life.
Therapy of the upper limbs
We use manual therapies to mobilize your joint structures and the ligamentous apparatus and musculature actively or passively. We strengthen the partially paralyzed muscles in the hands and arms in a targeted manner and thus counteract muscle shortening and stiffness. Simple but effective training equipment includes therapy bands and therapy modeling clay.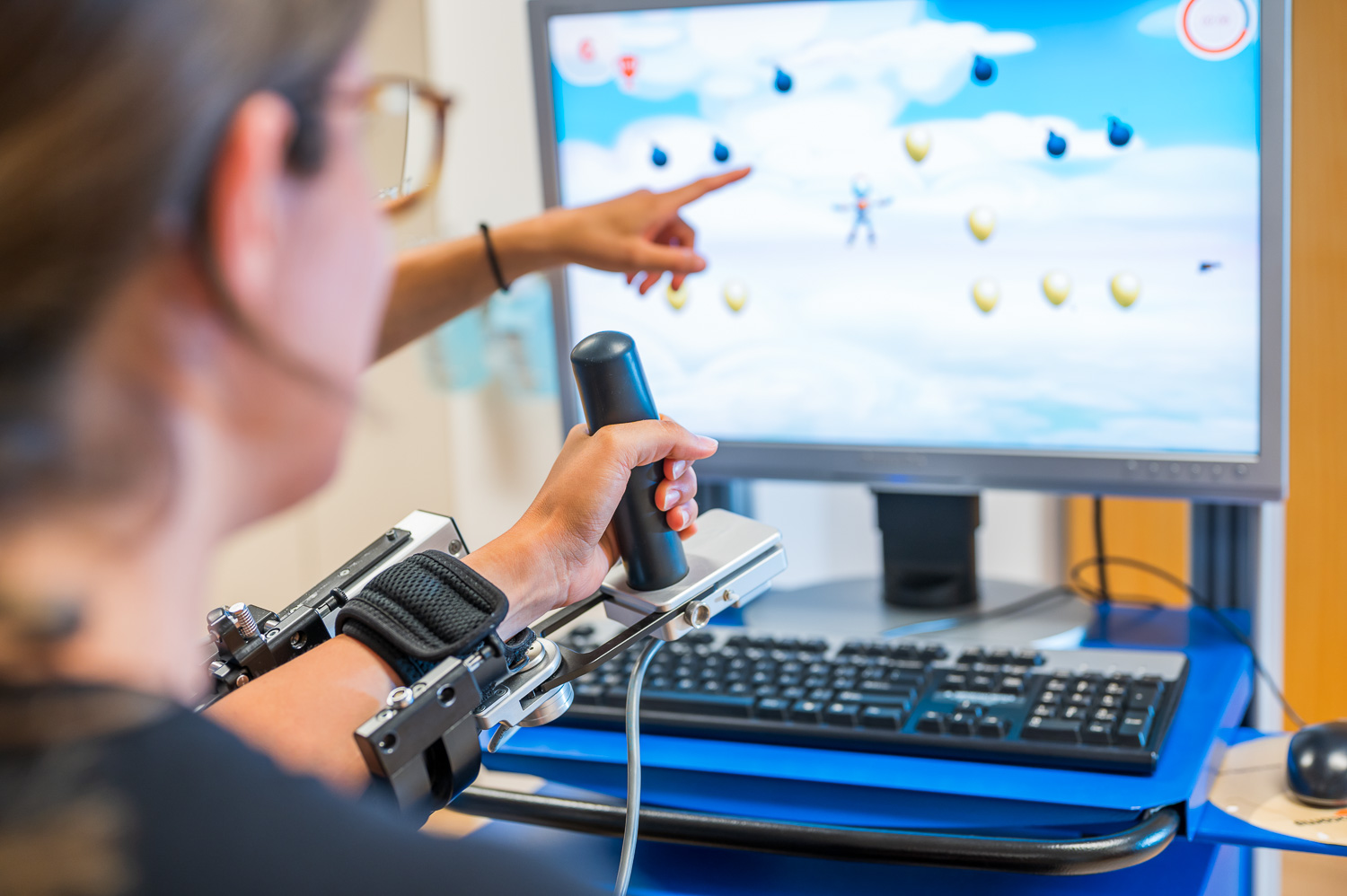 Robot-supported training
The robotic Armeo®Spring arm helps you to execute your movement exercises precisely. This enables you to train your hand and arm function in a large movement radius and thus relearn specific movement patterns and strength regulation. Repeating exercises can also help to create new neuronal connections for initiating movements.
Functional Electrical Stimulation (FES)
Following paralysis, damaged nerves only stimulate nerves to a reduced extent or not at all. So that the muscles can still move and don't degenerate, we use electrical impulses to stimulate the nerves and muscles in the arms and hands. These repeated, precisely administered stimuli reach the affected muscles, which then relax and become stronger.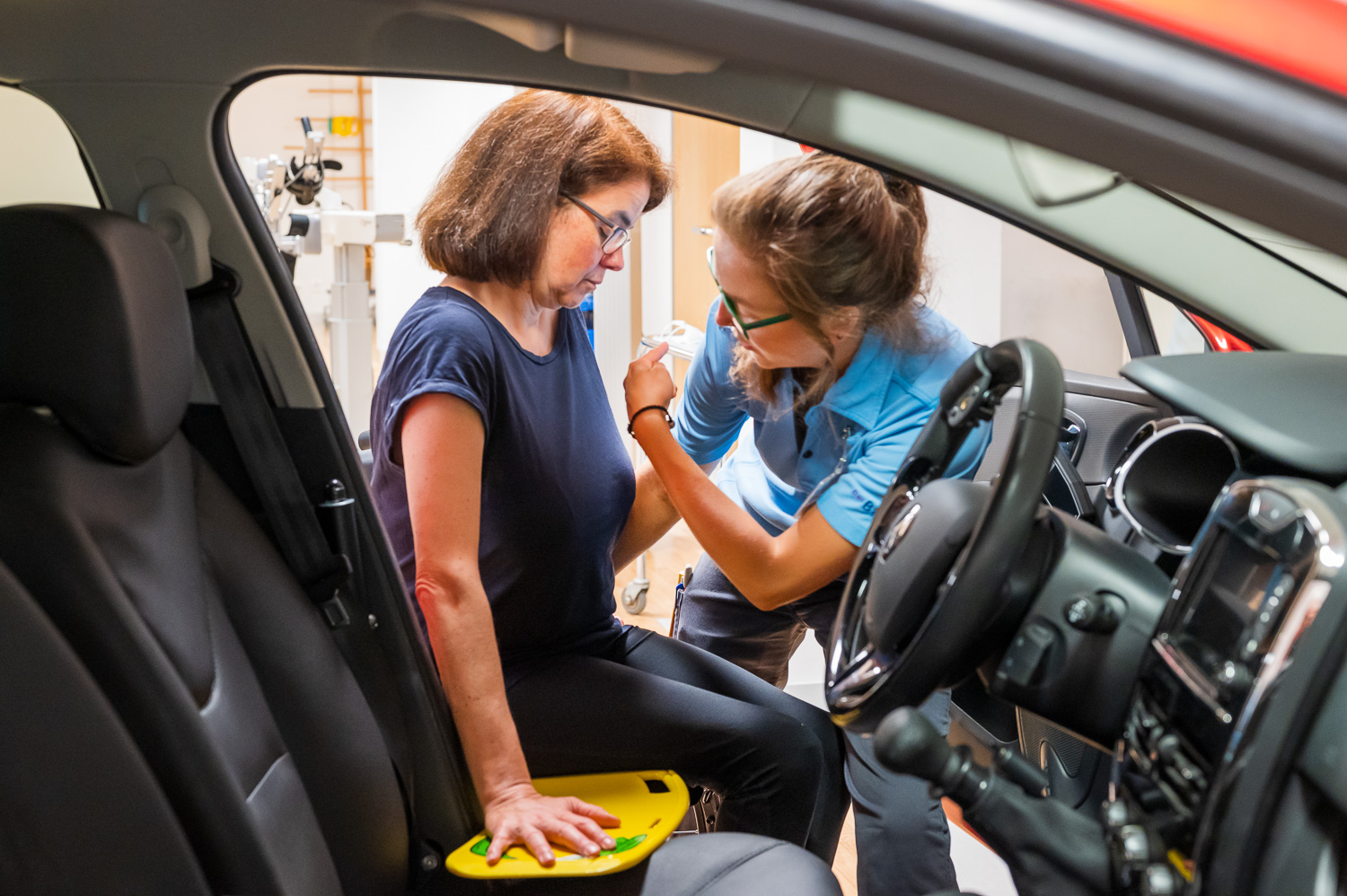 Transfer training
During transfer training, you'll practice moving independently and safely from your wheelchair to your bed, to a WC and shower seat, into the bath and into the car.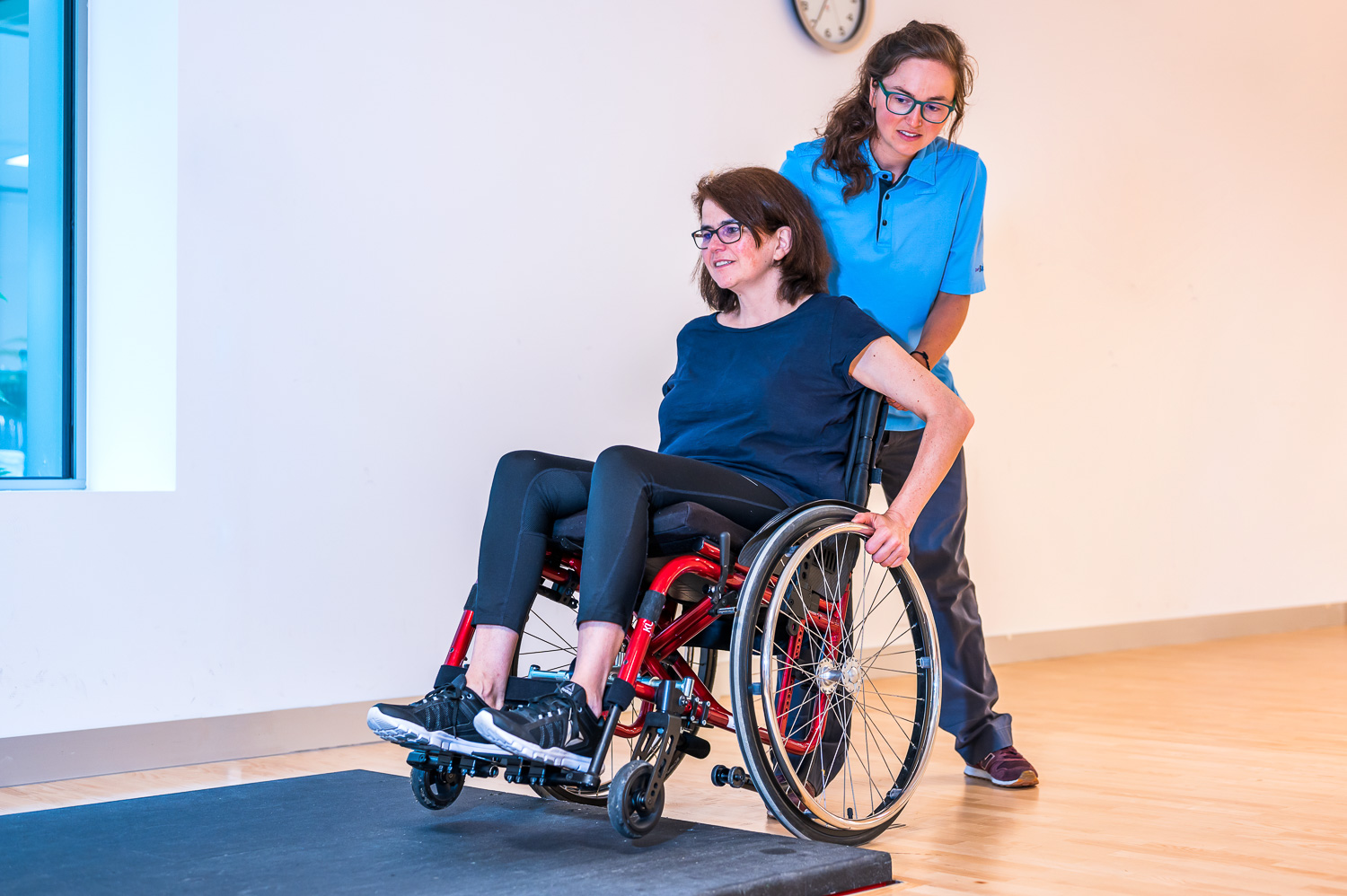 Wheelchair training
You'll learn how to move safely and independently in an active or electric wheelchair. We'll prepare you for handling any situation outdoors, in buildings or on public transport.
Consultations and clarifications
Advice on wheelchairs and accessories
So that you can move around safely, easily and economically, we recommend suitable models and accessories that we can adjust to your personal needs. We also explain, for example, the pros and cons of various electric drives and anything else you would like to know.
Advice on seat cushions and seat pressure
A special seat cushion in the wheelchair provides comfort, stability and prevents decubitus (pressure sores). We measure your pressure distribution in various positions and then find the ideal seat cushion for you. Find out more in the brochure.
Decubitus prohylaxis – preventing pressure sores (PDF in German)
Sitting position
We evaluate with you the most suitable positions for both stable sitting and a high degree of mobility in everyday life. We'll find the right aids to correct or prevent poor posture e.g. back shells, pelottes (normally bale-shaped pressure pad) etc.
Aids
We identify together with you which aids you might need in daily life. We then test whether the equipment and objects also work effectively. Examples of aids that are often required include adapted cutlery and toothbrushes, operating aids for communication devices, bath boards and bath lifts, WC boosters, handles, transfer aids such as transfer boards or patient lifters etc.
Evaluation of living and work environment
We systematically evaluate your domestic and work situation using construction plans and photos. We also visit the premises with your relatives, employers, architects and disability insurance advisors. A particular focus is placed on wheelchair-appropriate access to the apartment - from the driveway to the stairs and lifts. Adjustments and conversions are most often required in the bathroom to create enough space and install handles etc. Obstacles such as thresholds, ledges and door dimensions that are too narrow are also included in the planning so that you can reach all your rooms.