Physiotherapy Paraplegia
The spinal cord is a fundamental part of our central nervous system and therefore indispensable for the proper functioning of our body and locomotor system. Paraplegia or tetraplegia therefore turns many things in life upside down.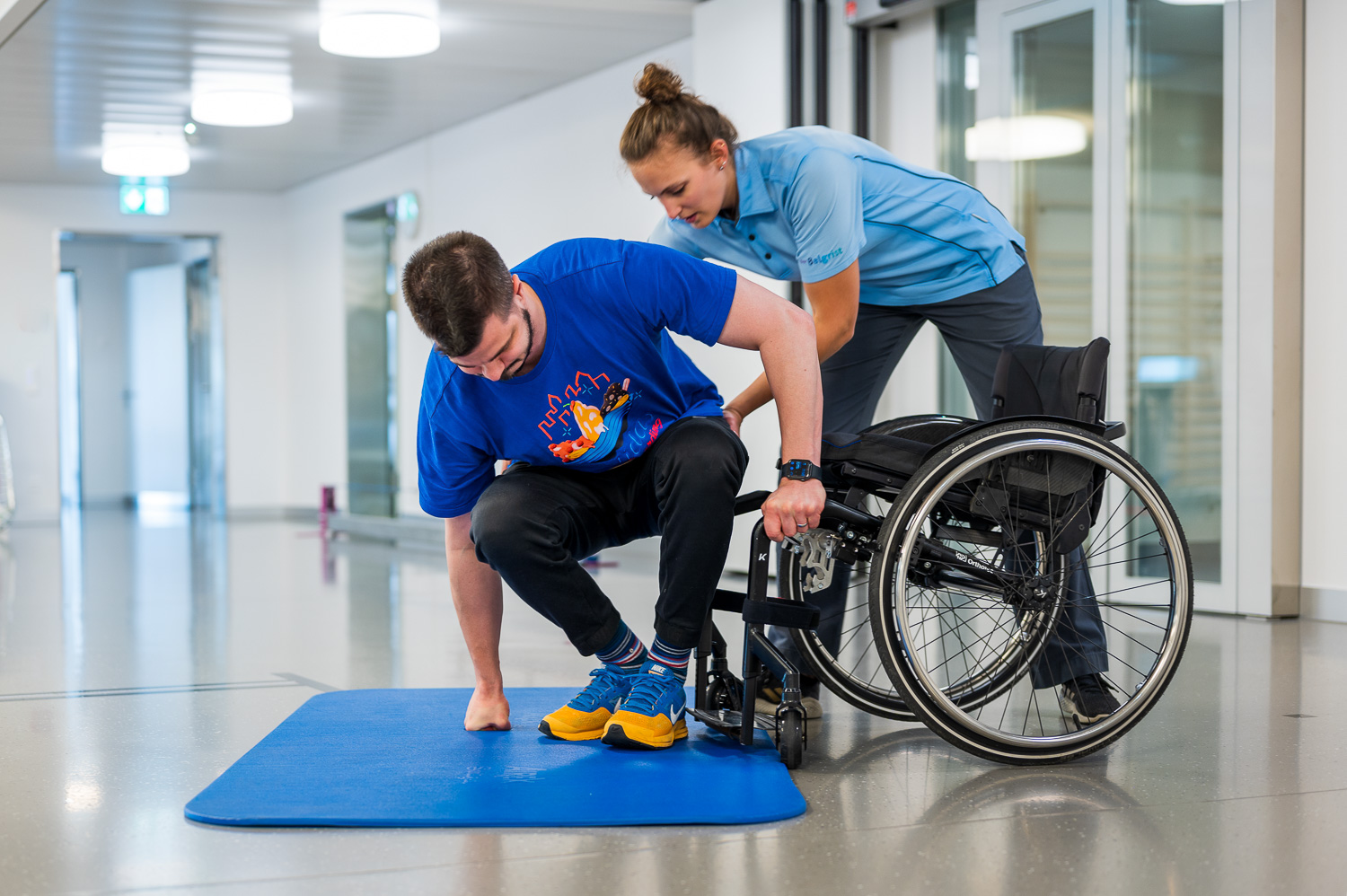 Our expert team of physiotherapists is specialized in treating patients with spinal cord injuries. Their overriding goal is to help you get back to the best possible mobility and independence.
Our offer
Our physiotherapy team is there for you at every phase of your rehabilitation process – on the intensive care unit, on the normal ward and when you are an outpatient after being discharged from hospital. We help you to rebuild existing and resting functions of the locomotor system. If certain functions have been permanently damaged, you'll learn strategies and skills to compensate for this. We have a whole range of therapy options available that we individually tailor to you.
Individual therapy
Step by step you'll develop the skills and abilities required for everyday life so that you can live as independently as possible. Whether you're in a wheelchair or walking, undertaking your first or subsequent rehabilitation – we'll guide you towards the jointly defined therapy goal and prepare you for the period after your discharge from hospital. You'll relearn, for example, how to turn over in bed, sit on the edge of a bed, get into a wheelchair and move around with the help of a suitable walking aid.
We'll teach you how to use various aids for improving your mobility. We also practice getting around outdoors and the use of private and public transport. If possible and desired, we'll guide you back to your sporting activities. We deploy a range of physiotherapy techniques and use various technical aids:
Manual therapies
We maintain and improve the mobility of joints, muscles, connective tissue, skin and nervous system using manual mobilization techniques. We use complex physical decongestion therapy to counteract edemas (fluid retention in the tissue) in the arms and legs. If necessary, compression socks may be used to permanently prevent symptoms.
Training
To regain control of some of your movements, we perform coordination and innervation training with you. This involves setting impulses for promoting neural supply to specific body parts. Various, technically refined robotics systems help us to train the affected sections of your body.
In ADL training – ADL stands for Activities of Daily Life – and during gait training you'll learn how to deploy the acquired skills for a given situation.
Patients may occasionally experience difficulties swallowing. We use F.O.T.T (Facial-Oral Tract Therapy) to restore the swallowing function and thus oral food intake to the best extent possible.
If the respiratory system is also affected, we use targeted exercises to train the respiratory muscles and help make your breathing easier, improve secretion management (through expectoration and/or aids) and make oxygen uptake more efficient.
Group therapy
As far as possible, you should take part in different group training sessions to develop your physical performance and prepare yourself for the future pressures of everyday life. These include Medical Training Therapy (MTT), various endurance training sessions, water therapies and various groups for table tennis, curling, archery and other sports. Joint training and the exchanges with other patients often have a very motivational effect and open up new perspectives.
Infrastructure
You'll find a modern and well-developed infrastructure. We're one of the few hospitals in Zurich with a therapy pool that can also be used by people in wheelchairs. The facilities for MTT and endurance training are, of course, also aimed at people of all mobility levels. We can use various highly-developed robotics systems such as the Lokomat®, The FLOAT and GRAIL to help patients relearn to walk.
The therapy systems can be analyzed – some of them have virtual reality functions – and enable us to start intensively training patients with different functional levels from an early stage of their rehabilitation.