Physiotherapy Shoulder and Elbow
Shoulder joints are the most flexible of all the joints in our body. The interplay between the bones, ligaments, muscles and tendons that provide stability and movement is accordingly complex. Elbows are incredibly important for smooth movement patterns in the arm, shoulder and wrist.
Our offer
Our therapists are specialized in the treatment of the upper extremities and know exactly the high functional requirements of both joints. The fact that we comprehensively address your medical history (anamnesis) is essential and a matter of course for us.
Water therapy in small groups
The physical properties of water make movements easier and pain-free. Water therapy in the pleasant 34 °C temperature of the walking pool and 32 °C temperature of the sports pool is particularly suitable for patients who have recently undergone a shoulder operation. We offer our shoulder patients water therapy in groups three times a day from Monday to Friday.
Medical Training Therapy (MTT)
As soon as you have regained a certain stability in your shoulder muscles, are more mobile and have less pain, we can continue your treatment using Medical Training Therapy (MTT). A team of specialist sports physiotherapists will take care of you. Many of our experts practice one or more sports themselves. They therefore know all about the physical and mental aspects of your sport and target these to help you get back to your sporting activities.
After successfully completing a therapy, it's generally important to maintain the achieved form or continue to improve it. We therefore recommend that you train in our training center.
Therapy knowledge – shoulder & elbow
Autor: Marcel Enzler, Physiotherapist KSp MSK, Head of Therapies
Shoulder Pacemaker™ – electrical muscle stimulation for functional posterior shoulder instability
We've been successfully using Shoulder Pacemaker™ since 2018 to treat functional posterior shoulder instability. The promising therapy approach is suitable for sportspeople and people who couldn't be helped by conventional physiotherapy.
If the neural (nerves) and active (muscles) subsystems fail to work together properly, this can result in functional posterior shoulder instability. In daily clinical practice, we see the causes or factors that can facilitate this e.g. pathological activation patterns in the rotator cuff and periscapular muscles and reduced mobility in the scapula (shoulder blade). This may result in the humeral head (upper arm bone) becoming detached from its centered position in the socket under normal physical strain and movement. It mostly affects teenagers and young adults.
How the Shoulder Pacemaker™ works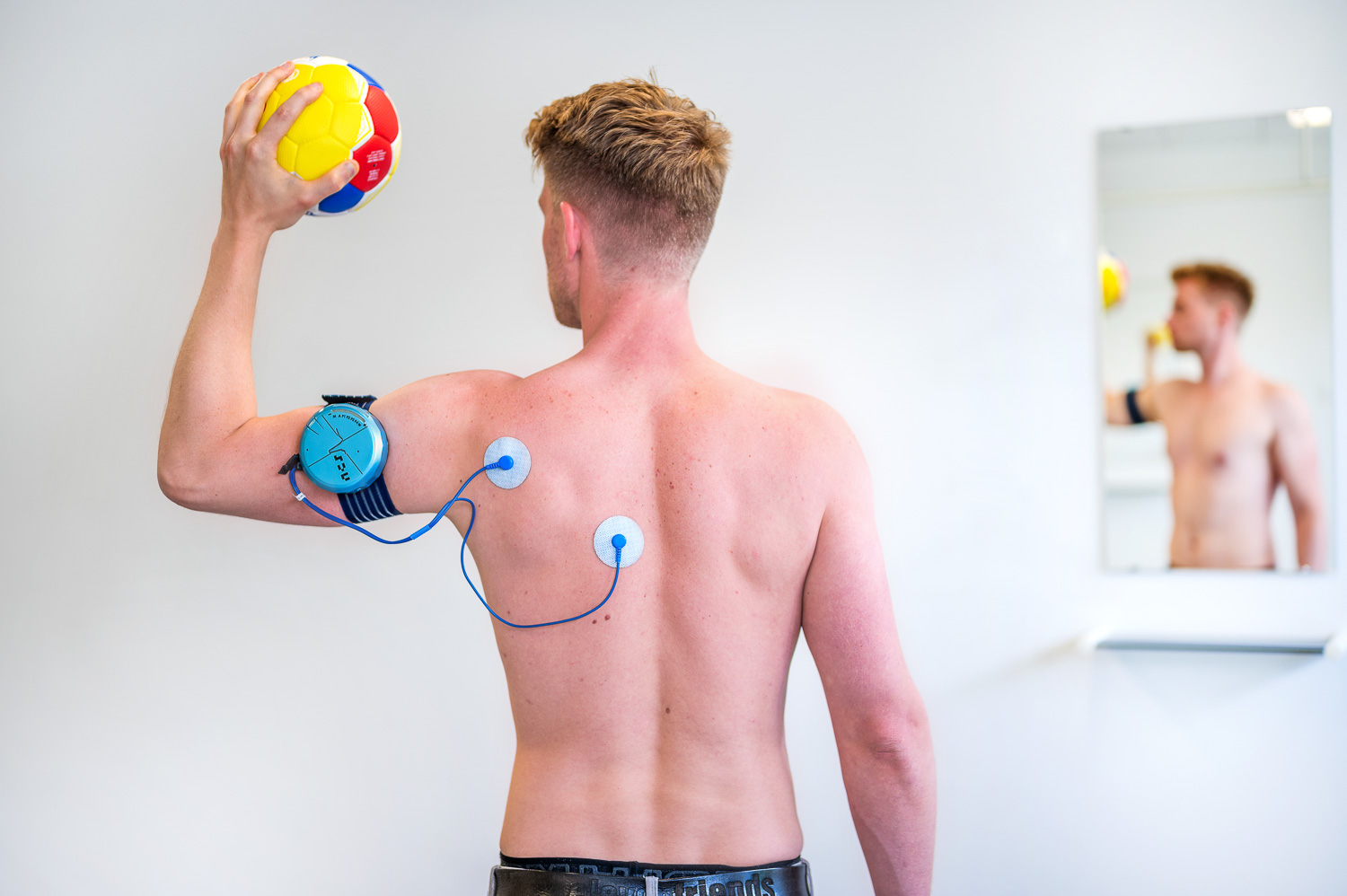 Two electrodes are attached to the skin in the region of the inactive (hypoactive) muscle groups (outer rotators and scapula retractors). They generate impulses during a certain movement pattern and stimulate the muscles so that the brain learns to correct the imbalance of various active muscles.
Therapy options
Posterior shoulder instability can be repaired through surgery if it's structural but not if it's functional. That's why conservative physiotherapy is currently the standard treatment. The Shoulder Pacemaker™ therapy concept was developed at Charité – Universitätsmedizin Berlin. The responsible team showed in a pilot study that shoulder stability could be successfully restored during the application period.
Study on the Shoulder Pacemaker™ therapy concept
The findings from the pilot study formed the basis for a further clinical evaluation of 24 cases among 16 patients1, who had already successfully completed conventional conservative therapy. They trained three times a week for three to six weeks as per the Shoulder Pacemaker™ therapy concept. All participants who remained to the end achieved a free degree of movement without any further uncontrolled subluxations (incomplete luxations). Four of the patients were even able to resume their shoulder-focused sports. A considerable improvement in the clinical scores (uniform medical points system) was also identified three months later.