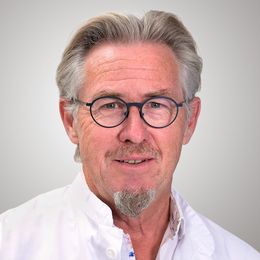 Dr.
Martin Wangler, DC, MME
Head of Outpatient Clinic Chiropractic Medicine
Languages
German, English
Specialisation
Specialist chiropractor
Graduate
2004–2008 Postgraduate studies in Medical Education at the University of Bern
1980–1983 Residency in Chiropractic Education in Switzerland
1976–1980 Study of Chiropractic at the CMCC in Toronto, Canada
1975–1976 Biology University of Zurich
Professional career
Since September 2022 Head of the Polyclinic Chiropractic Medicine at Balgrist University Hospital in Zurich
2022 Participation in the working group Accreditation/PROFILES Continuing Education and working group Inventory & Needs Analysis ChiroSuisse
2019–2021 Supervision and Curriculum Development Orthopedics Sonnenhof Bern
2018–2021 Practice as chiropractor, senior consultant and principal practice Integri Bern.
2014–2019 Partner and Coordinator Kurwerk Medical Center in Burgdorf
2010–2015 Dean EAC (European Academy of Chiropractic, Continuing Education)
2010–2015 Member of the Board ChiroSuisse
2010–2015 President BCG (Bernese Chiropractors Society)
2007–2010 Director Academic Affairs EAC (European Academy of Chiropractic, Continuing Education)
2004–2007 Director SCI (Continuing Education Institute of Swiss Chiropractors in Bern)
2004–2006 Board of Trustees SCI Bern (Continuing Education)
2004–2007 Member of the board ChiroSuisse
2002–2006 Vice President BCG (Bernese Chiropractors Society)
2002–2021 Moderator of the first QZ of the Bernese chiropractors
1989–2021 Principal (Mentor further education assistants)
1984–2021 Lecturer at the Swiss Academy of Chiropractic, formerly SCI in Berne
1984–2019 Practice in Burgdorf (independent)
Degrees / Diplomas
2008 Master of Medical Education (MME) UniBE, Switzerland
1983 Specialist Chiropractor
1980 Doctor of Chiropractic (DC)
Publications
Appointments
We would be happy to arrange an appointment with you.
Outpatient chiropractic clinic
Dino Elias Gisler
+41 44 386 57 06
Email
Chiropractic Medicine
A scientifically based method of treatment, chiropractic is a form of alternative medicine that can be used instead of or in addition to other medical or surgical treatment and physiotherapy. Experienced chiropractors treat patients with many different diseases and conditions affecting the musculoskeletal system. At the same time, the outpatient clinic is a training centre for future chiropractors.