Securely back to everyday life
Internist sports medicine offers services including rehabilitation and prevention. Patients benefit from the solid know-how that we have built up over many years treating elite athletes.
General internal medical programs
Cardiac rehabilitation
Outpatient cardiac rehabilitation is an effective measure to improve your performance and quality of life and to prevent further cardiac events.

The therapy is used
For patients with a disease affecting the heart or circulation (e.g. heart failure or peripheral artery disease = PAD)
After heart surgery (e.g. valve operations, bypass grafting) or stenting
When there are strong cardiovascular risk factors (overweight, diabetes, high blood pressure, disorders of fat metabolism)

The goals of outpatient cardiac rehabilitation are
Targeted improvement of strength and endurance, adjusted to your needs in everyday life
To get to know your own limits and reduce anxiety

You can expect
Clearly defined training times
Training in small groups
Care from specially trained cardiac therapists
Regular medical review by a physician during training
Presentations and relaxation units in addition to the active therapeutic measures
The possibility of cardiac-related psychotherapy
General medical care in discussion with your family doctor or heart specialist
Contact and registration
If you have any questions or wish to make an appointment, please contact Reception directly.
+41 44 386 52 52
EMail
You can find more information in our brochure (in German only).
Pulmonary rehabilitation
Shortness of breath is often the main symptom of lung disease. Shortness of breath leads to greater avoidance of physical activity. This lack of physical activity leads to progressive weakness of the cardiovascular system and the muscles. This weakness in turn means that relatively more effort is required and there is greater shortness of breath on exercise. In other words, a vicious circle of inactivity develops.
Targeted training can improve your performance, reduce shortness of breath, and break the vicious circle. Outpatient pulmonary rehabilitation is a modern evidence-based treatment used for chronic lung disease, after acute lung diseases, or before and after surgery on the lungs. It is a multidisciplinary program that is adjusted to the individual.
The outpatient pulmonary rehabilitation program usually lasts for three months or 36 sessions.

Which conditions can outpatient pulmonary rehabilitation be used for?
COPD
Asthma
Other chronic lung disease (such as cystic fibrosis)
After acute lung disease (such as pneumonia)
Before and after surgery on the lungs

What are the requirements for successful treatment?
Completed medical diagnostic investigations
Sufficient mobility to allow participation in training
Well-adjusted medication
Active motivation and regular participation in the program

What are the goals?
To increase the quality of life
To improve physical fitness
To reduce shortness of breath and break the vicious circle of inactivity
To learn strategies for situations of physical activity
To learn breathing and coughing techniques
If necessary: to improve your diet

Who bears the costs?
After they have approved the assumption of costs, the health insurance will bear these costs. Your private payments will depend on your franchise and 10% deductible.

Is the program accredited?
The program is accredited by the Swiss Society of Pulmonology and is carried out in cooperation with the Lung Center in Zurich.

How do I register?
Your treating physician has to fill out an application form for you.

What does the program entail?
It starts with a medical examinations and performance tests to estimate your current physical performance. A personalized training program will be drawn up for you on the basis of these results.
In a 1:1 session, we will determine your respiratory profile and discuss relevant strategies for breathing and coping with everyday life. We will also provide you with information on the topics that are important in addition to physical training.
In the subsequent group training, you will work on your personalized training program to improve your physical performance with respect to endurance and strength. These small group sessions are held twice a week and last for an hour each time.
Contact and registration
Even after you have completed pulmonary rehabilitation, you should continue to exercise. You can continue to train with us:
Patients who have undergone outpatient pulmonary rehabilitation can also benefit from a three-months' subscription at a reduced price. Continue with the group training, train on your own, or try one of our group courses.
If you have any questions or wish to make an appointment, please contact Reception directly.
+41 44 386 52 52
EMail
The program is accredited by the Swiss Society of Pulmonology and is carried out under the medical supervision of the Lung Center in Zurich.
Exercises and sports therapy in cancer
We offer specific exercises and pain management for patients with cancer. Here, too, physical exercise is essential for a positive healing process.

Therapy focuses on
Screening and analysis of the need for physical exercise
Individual training monitoring and advice
Individual and group training sessions (endurance, strength, coordination, relaxation)
Sports-specific basic instruction up to competitive sports training
Performance diagnostic tests (exercise ECG, exercise spirometry, lung function tests)
When undergoing exercise and sports therapy, you will be training under professional instruction. Rehabilitation will be adjusted to your current performance status.

Benefits of the therapy
Training is supervised/discussed with an internist
Possibility of associated physiotherapy
Possibility of supplying support services
Medical Training Therapy
Medical Training Therapy (MTT) treats and trains acute and chronic conditions. The goal of MTT is to restore patients to their own level of physical fitness, whether for everyday activities, at work, or in competitive sports.

Therapy is used for
Back complaints
Rheumatic diseases
Operations on the spine
Knee or hip joint replacements
Cardiovascular or respiratory diseases
Transit to independent or sport-specific training
Maintaining physical performance for professional athletes

What does treatment consist of?
Medical history (discussion with the patient) and introduction to training, lasting about one hour
Precise determination of the current physical status and setting goals together.
Subsequent smaller measurements and tests when necessary to optimize training and monitor advances
Good to know
MTT is prescribed by a physician and reimbursed by the basic statuary healthcare insurance.
Back to sports
'Back to sports' is a rehabilitation program for athletes who have torn their cruciate ligaments: they want to avoid surgery but, even so, want to get back to their sport as soon as possible.

What does the therapy consist of?
The course of treatment is oriented to sport-specific milestones.
Individual advances are checked regularly with meaningful individual tests and series of tests.
In addition to knee function, mental health factors are also assessed and taken into consideration.
A careful interpretation of the results ensures the increase of rehabilitation with minimum risk and optimal return to (competitive) sports.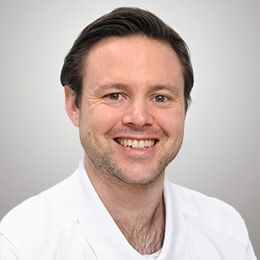 Head of Cardiac Rehabilitation
Sandro Galli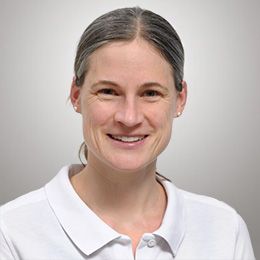 Head of Exercises and Sports Therapy in Cancer
Martina Uhl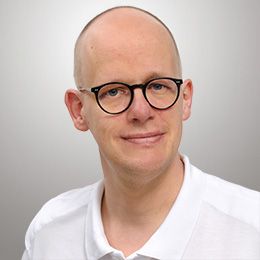 Staff Member Physiotherapy
David Schmidt