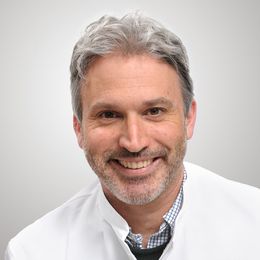 Dr. med.
Matthias Rüger
Consultant Pediatric Orthopedics
Academic career
MD awarded at RWTH Aachen University (magna cum laude)
1995 – 2003 Medical School of RWTH (Polytechnic University), Aachen, Germany
Professional career
Since 2018 Co-Lead Limb Reconstruction Unit, Dept. of Paediatric Orthopaedics, Traumatology and Neuroorthopaedics, Children's Hospital Zurich, Switzerland
2013 Orthopaedic Staff Surgeon/ Fellow of Paediatric Orthopaedics, Murnau Trauma Center, Reconstructive Pediatric Orthopedics
2011 – 2013 Senior Resident, Murnau Trauma Center, Murnau, Germany, Dept. of Trauma and Reconstructive Surgery
2009 – 2011 Resident, Endogap Joint Replacement Center, Garmisch-Partenkirchen, Germany
2008 – 2009 Resident, Spine Center Munich-Harlaching
2007 – 2008 AO Spine Fellowship, Department of Trauma Surgery and Sports Traumatology, Innsbruck, Austria
Postgraduate
2016 Consultant Paediatric Orthopaedic and Trauma Surgeon, Children's Hospital Zurich and Balgrist University Hospital, Zurich
2015 Specialty Paediatric Orthopaedics (Bavarian Medical Board Certificate)
2015 Consultant Paediatric Orthopaedic and Trauma Surgeon, Trauma Center Murnau and German Center for Paediatric Rheumatology, Garmisch-Partenkirchen
2011 Specialty Orthopaedic and Trauma Surgery (Bavarian Medical Board Certificate)
2009 Emergency Physician (Bavarian Medical Board Certificate)
2003 – 2007 Residency, Department of General & Trauma Surgery, University Medical Center, Aachen, Germany
Scientific projects
Development of a mechanically adaptable biomaterial for manufacturing personalized orthopaedic implants
Basic research on understanding and optimizing bone healing capacity
Organotypic bone model towards animal-free orthopaedic research
Orthopaedic management of metabolic bone disorders
Constitution of a European OI research network
Other activities
Since 2017 Clinician Scientist, Laboratory for Bone Biomechanics, ETH Zürich, Switzerland
Publications
Von Rüden C, Dietz SO, Schmittenbecher P, Fernandez FF, Lieber J, Wilkens B, Rüger M, Schneidmueller D. Pediatric aseptic lower leg fracture nonunion. Eur J Trauma Emerg Surg. 2020 Dec 2. doi: 10.1007/s00068-020-01556-1. Epub ahead of print. PMID: 33263815.
Heidt C, Grueberger N, Grisch D, Righini-Grunder F, Rueger M, Ramseier L. The Assessment of Steroid Injections as a Potential Risk Factor for Osteochondral Lesions in Children with Juvenile Idiopathic Arthritis. Cartilage. 2020 Sep 27:1947603520961173.
Rüger M, Sellei RM, Stoffel M, von Rüden C. The Effect of Polymethyl Methacrylate Augmentation on the Primary Stability of Cannulated Bone Screws in an Anterolateral Plate in Osteoporotic Vertebrae: A Human Cadaver Study. Global Spine J. 2016 Feb;6(1):46-52.
Lauen J, Schnell H, Rüger M. Möglichkeiten der Achs- und Längenkorrektur beim Heranwachsenden. Trauma Berufskrankh 17, 170–177 (2015). doi: 10.1007/s10039-014-2124-0
von Rüden C, Woltmann A, Röse M, Wurm S, Rüger M, Hierholzer C, Bühren V. Outcome after severe multiple trauma: a retrospective analysis. J Trauma Manag Outcomes. 2013 May 15;7(1):4.
Sellei RM, Lank C, Becher T, Knobe M, Rüger M, Spies CK, Schmitt T, Peters J, Erli HJ. Eine optimierte Bewertung "Schwerverletzter" zur Dokumentation von Unfallschwerpunkten im Straßenverkehr [An optimised assessment of "severely injured patients" for the documentation of road traffic accident black spots]. Z Orthop Unfall. 2011 Jun;149(3):279-87. German.
Rüger M, Gensior TJ, Herren C, König S, Erli HJ, von Walter M. The removal of Al2O3 particles from the surface of grit-blasted Ti implants improves biocompatibility and biological interface in vivo. Acta Biomaterialia 2010, ISSN 1742-7061.
Rüger M, Schmoelz W. Vertebroplasty with high-viscosity polymethylmethacrylate cement facilitates vertebral body restoration in vitro. Spine 2009 Nov 15;34(24):2619-25.
von Walter M, Herren C, Gensior TJ, Steffens GCM, Hermanns-Sachweh B, Jahnen-Dechent W, Rüger M and Erli HJ. Biomimetic modification of the TiO2/glass composite Ecopore with heparinized collagen and the osteoinductive factor BMP-2. Acta Biomaterialia, 2008.
Erli HJ, Rüger M, Ragoss C, Jahnen-Dechent W, Hollander DA, Paar O, von Walter M. The effect of surface modification of a porous TiO2/perlite composite on the ingrowth of bone tissue in vivo. Biomaterials. 2006 Mar;27(8):1270-6.
von Walter M, Rüger M, Ragoss C, Steffens GCM, Hollander D, Paar O, Maier HR, Jahnen-Dechent W, Bosserhoff AK, Erli HJ In vitro behavior of a porous TiO2/perlite composite and its surface modification with fibronectin. Biomaterials. 2005 Jun;26(16):2813-26.

In submission / under review:
Biomaterials: A novel, titanium fibre-based orthopaedic biomaterial with anisotropic mechanical properties. Matthias Rüger, Andreas Martin Seitz, Daniel Seitz, Christoph Heidt, Caitlyn Collins
Gait & Posture: Simplified Digital Balance Assessment in Typically Developing School Children. Christoph Heidt, Matia Iva Vrankovic, Alejandro Mendoza, Karsten Hollander, Thomas Dreher, Matthias Rüger
Appointments
We are happy to arrange appointments for Monday and Thursday.
Infant consultation with ultrasound on Thursday afternoon.
+41 44 386 30 91
+41 44 386 16 66
Email
You can reach us as follows:
Monday to Friday
8 am to 12 noon
1 pm to 5 pm
Pediatric orthopedics
Prof. Thomas Dreher and his team offer a highly specialized pediatric orthopedic unit with holistic care for all orthopedic problems. The child and the specific orthopedic problem are always the main focus, since children and adults ultimately differ in growth and development.