Physiotherapy Hip, Knee and Foot
Walking – for most of us this is the most natural way to get around. The lower limbs (i.e. the hip, knee and feet) must be intact. Bones, ligaments, muscles and tendons must reliably interact with one another.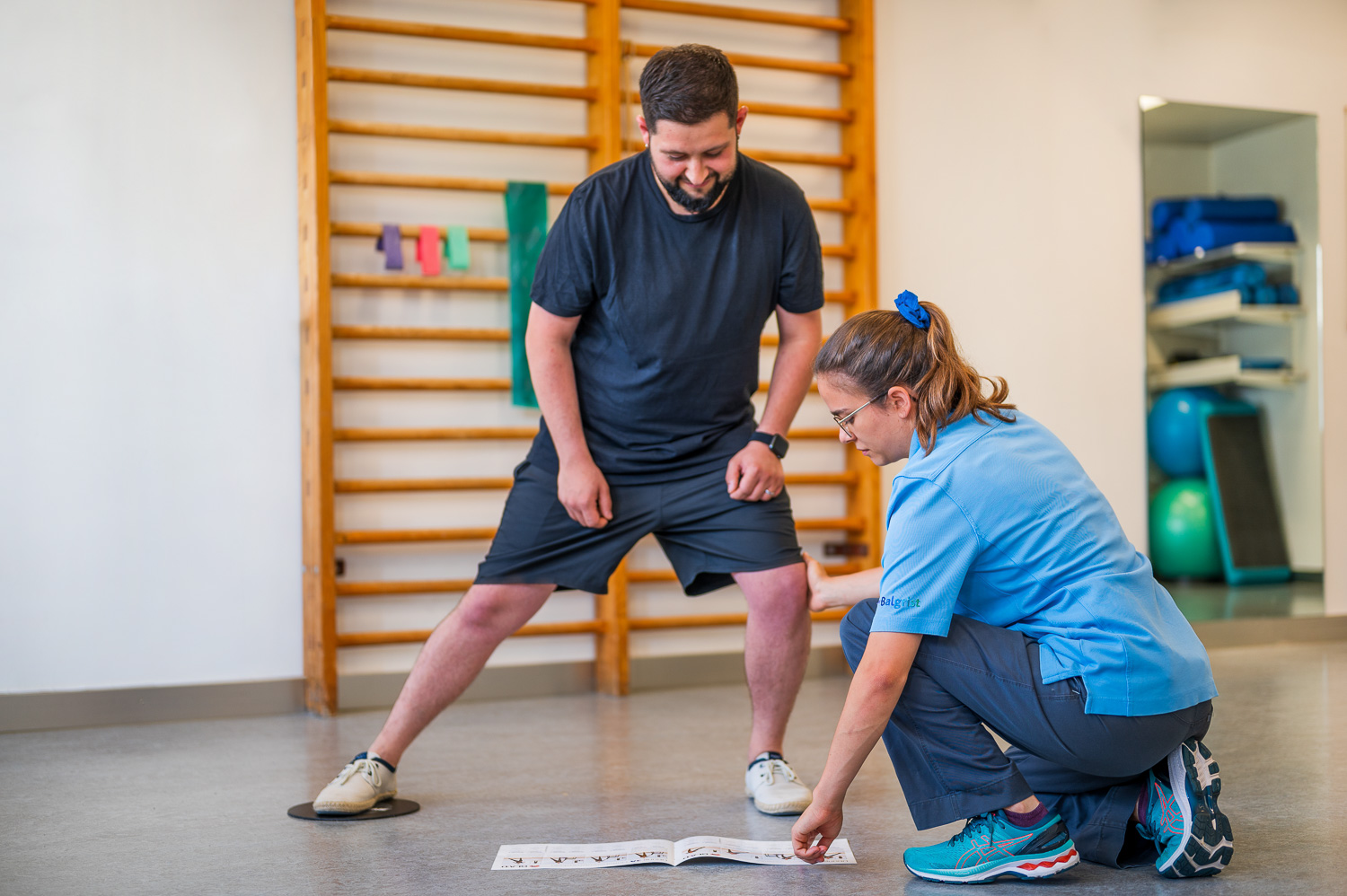 Our therapists are specialists in identifying and treating complex problems of the lower limbs. We use both manual therapy and active movement therapy (coordination and strength training) to treat joint dysfunctions. We develop individual exercise programs with you to strengthen your muscles and stabilize your joints. This will give you better control over the mechanical axis of your leg, which is important for movements that don't put strain on your joints. We'll help you to become more effective and approach your daily tasks and hobbies with enthusiasm.
Water therapy in small groups
The physical properties of water make movements easier and pain-free. Water therapy in the pleasant 34 °C temperature of the walking pool and 32 °C temperature of the sports pool is particularly suitable for treating strain-related pain in the lower limbs. We offer outpatient water therapy (aqua gymnastics and aqua jogging) individually or in groups several times a week.
Medical Training Therapy (MTT)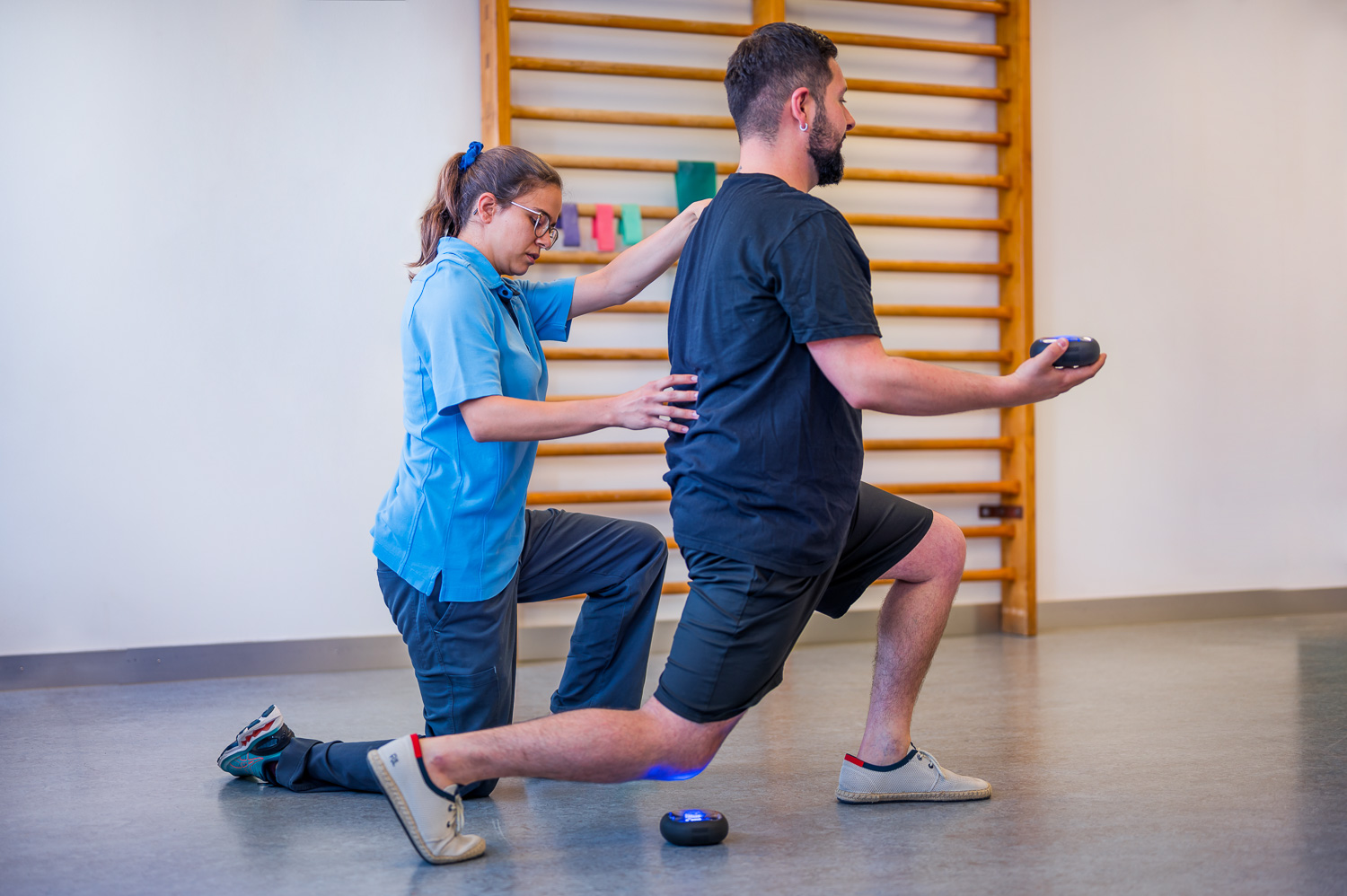 As soon as your muscles have been sufficiently strengthened, are more stable and you have less pain, we can continue your treatment using Medical Training Therapy (MTT). A team of specialist sports physiotherapists will take care of you. Many of our experts practice one or more sports themselves. They therefore know all about the physical and mental aspects of your sport and target these to help you get back to your sporting activities.
After successfully completing a therapy, it's generally important to maintain the achieved form or continue to improve it. We therefore recommend that you train in our training center.
Therapy knowledge – hip, knee and foot
Authors: Carla Stadler, PT; René Giger, PT, Team Leader Hip, Knee & Foot
GLA:D® – International therapy program for treating arthrosis
GLA:D (Good life with Osteoarthritis in Denmark) is an evidence-based therapy program for patients suffering from arthrosis of the knee or hip or both. The program consists of standardized clinical tests, patient education in the form of presentations and a guided active exercise program tailored to the individual symptoms of the patients.
The aim of  GLA:D is to improve quality of life by increasing the activity level and reducing pain. According to international guidelines from EULAR (European League against Rheumatism) 1 and OARSI (Osteoarthritis Research Society International) 2 active exercises, patient education and weight management are best practices in conservative therapy. An operation should only be considered once conservative treatments have been exhausted without success (Figure 1).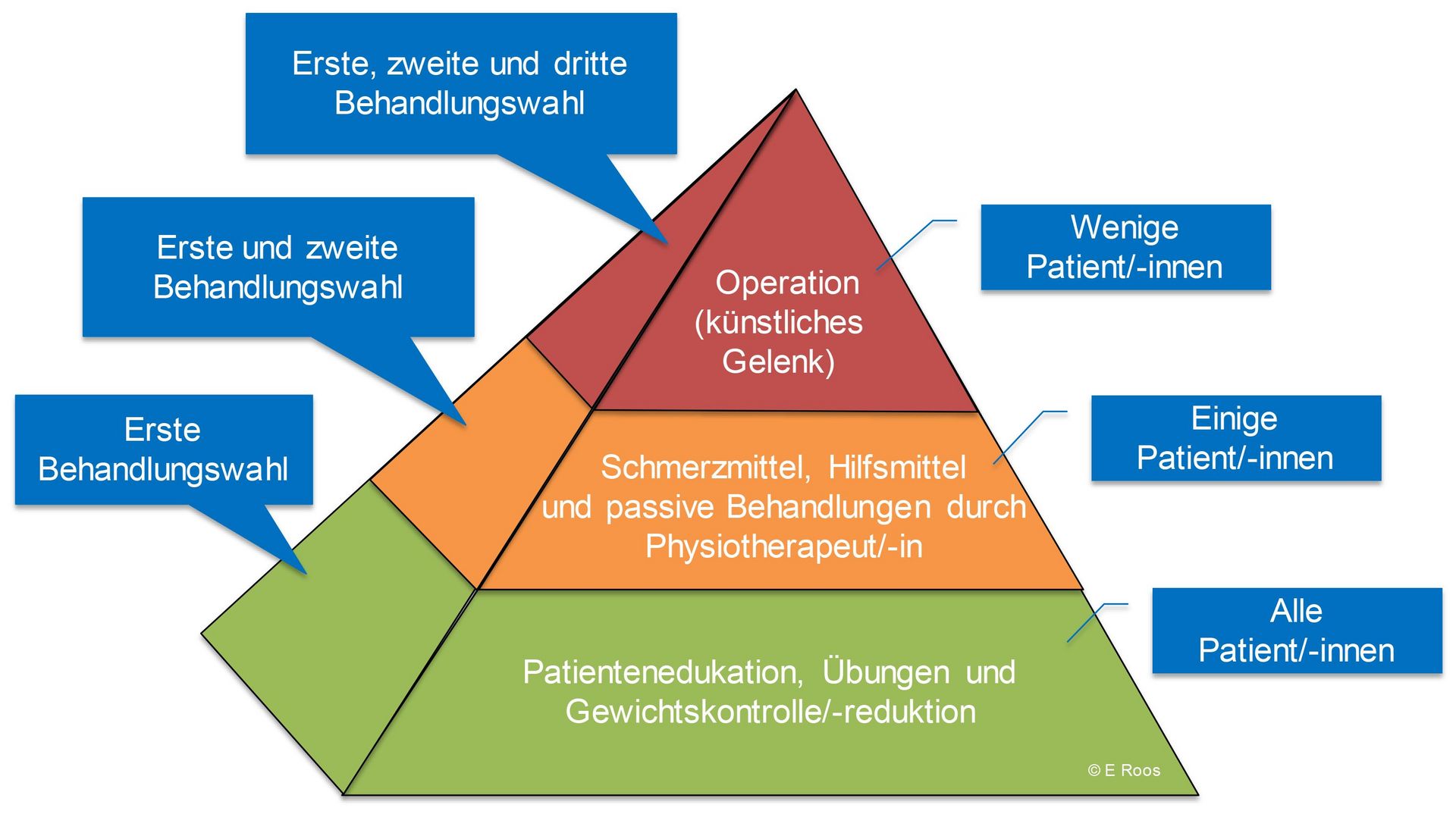 Figure 1, source: Roos EM & Juhl CB.: Osteoarthritis and Cartilage. 2012, 1477-1483 3 (modified as per GLA:D Switzerland).
How the GLA:D therapy program works
Eva Ageberg and Ewa M. Roos, two Danish professors, showed in an investigation 4 that patients with knee or hip arthrosis can benefit from neuromuscular exercises. They trained, for example, how to control the longitudinal axis of their leg and thus improved their movement functions while also reducing pain. The neuromuscular exercise program is just as effective as strength and endurance training.
As arthrosis patients very often also manifest neuromuscular deficits, this element was incorporated into the GLA:D program.
Therapy cycle (total of 18 sessions)
3 individual therapy sessions
Medical history, findings from standardized assessments and training
2 presentations of one hour
Advice, patient education, self-management
12 group therapy sessions
Training under guidance from physiotherapists
1 individual therapy session
Clinical tests, final discussion with a focus on self-management
Study on the GLA:D therapy program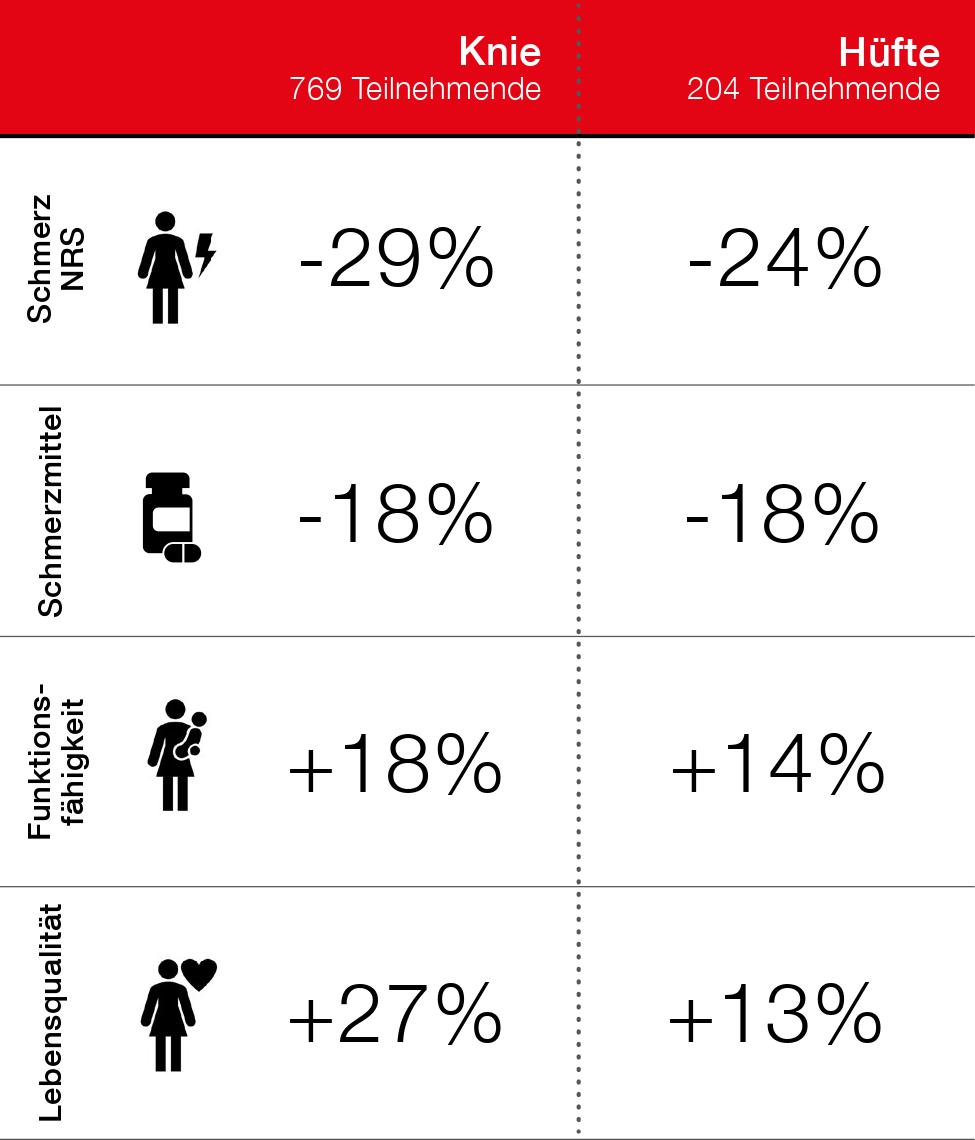 Since 2019, results from the standardized clinical tests and questionnaires have been recorded in the GLA:D database in Switzerland. These were published in the 2020 annual report 5. The considerable volume of data from more than 1,200 participants is comparable with the data collected in Denmark between 2013 and 2019 6.
After completing the therapy program, patients reported that they were in considerably less pain. As a consequence, they also took fewer painkillers (Figure 2). The reduction in pain and improvement in strength and walking ability had an overall positive effect on joint functioning and, therefore, on the patients' quality of life.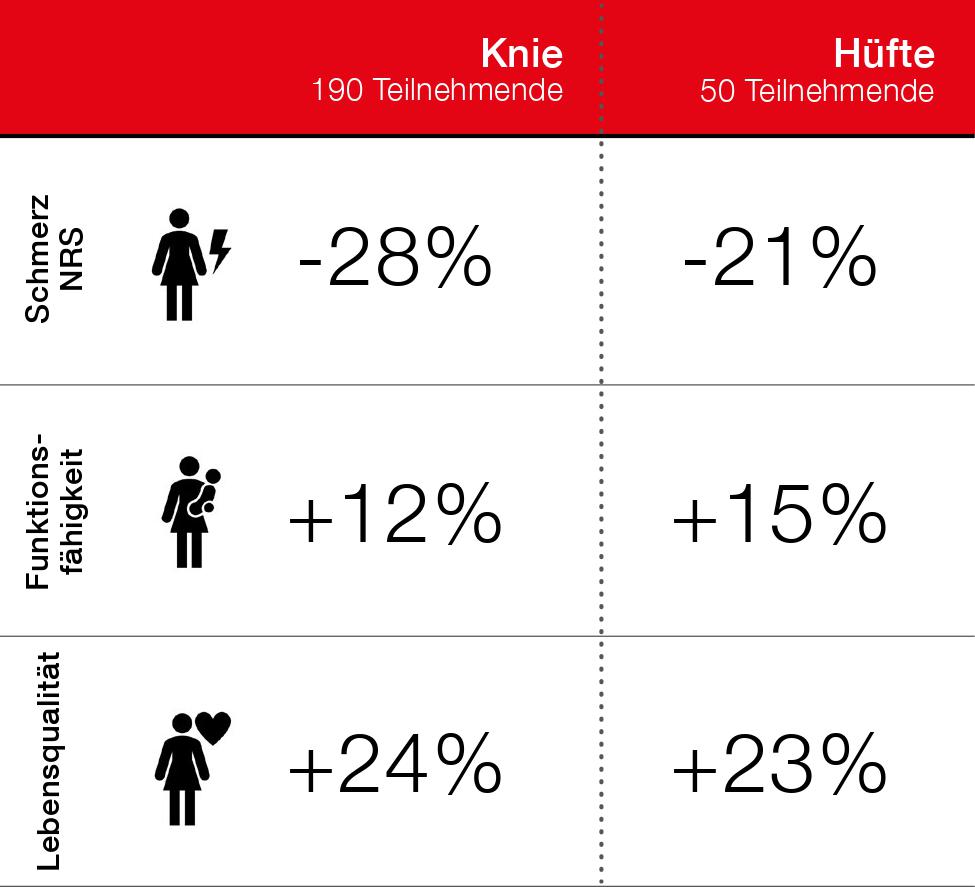 One year after completing the program, the patients filled in the questionnaire again to find out whether and how there had been a change in their arthritic symptoms. The reduction in pain remained relatively stable, as did their joint functioning and thus quality of life. There was even a further rise in quality of life among hip patients (Figure 3).
The lasting effect of the programs is very pleasing, as is the knowledge that participants are evidently able to independently manage their joint pain to a considerable extent.