Physiotherapy Prevention and Sports Medicine
Do you want to start playing sport again? Or walk up the stairs without being in pain? Do you want to get back on your feet after an accident or illness? Or prepare for your next competition with support from sports medicine experts? We'll get you there.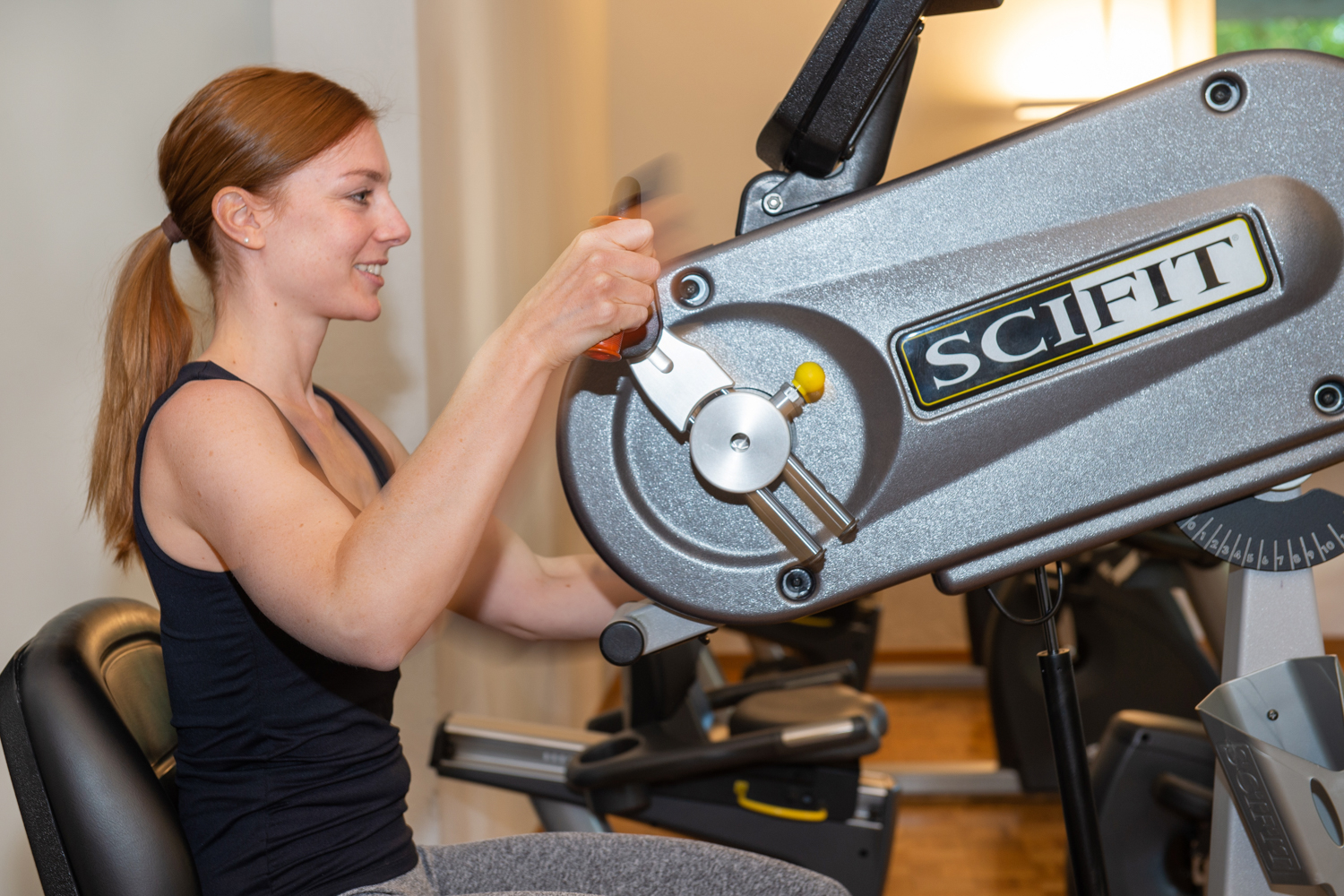 Our physiotherapy experts have many years of experience and are there to help people of all ages and fitness levels. To reduce complaints of the locomotor system, we investigate the causes, support you along the entire treatment path and also offer advice for the period afterwards.
Specialist sports therapists and physiotherapists advise and treat sportspeople at all ability levels.
Our offer
Our therapies and training sessions are not only available to top-class athletes, but also to anyone who wants to benefit from such competent treatment. Individual therapy is available to people with a medical referral. All other offers are also targeted towards self-paying customers.
Individual therapy
We offer help with problems related to excess strain and pain in the locomotor system, as well as after accidents and operations or in the event of acute interventions (immediate therapy directly after an injury). Your therapist gets to know you and the background to your illness or injury in a personal interview. The main aim of this is to uncover the cause of your symptoms and your aims and desired health improvements. This then forms the basis for your treatment plan, which includes tried-and-tested therapy measures based on the latest scientific findings.
Our offer for sportspeople includes specific rehabilitation therapies after sports injuries, injury prevention programs and coaching, performance enhancement and support with your training and competitions. Our specialized, experienced sports physiotherapists will make you faster, stronger and healthier. You'll also learn a great deal about your own body and its capacity.
Personal training
After completing your physiotherapy, you can continue to rely on competent support from a physiotherapist. The active training content is, of course, precisely tailored to your personal objectives (independently executed movements and exercises). It's important that you maintain or improve your form after successfully completing your rehabilitation treatment.
You'll find everything you need to do this in our training center.
Intensive rehabilitation for sportspeople
An interdisciplinary team of doctors, physiotherapists, sports therapists and performance diagnosticians take care of you in a setting that has been optimized for top-class athletes. We work together with your trainer to rebuild your strength and get you back to your sporting activities. The parents of young athletes are of course also involved in the process.
What prominent customers say
«I feel well looked after all round - many thanks to the whole team!»
«With a healthy hand I am back in the Ski World Cup!»

«Thanks to great support, I'm back on the slopes.»

Back to Sport – Knee
After a knee injury, we conduct extensive tests to determine how far away your knee is from being in the best shape. During the rehabilitation phase we regularly measure your progress, carefully interpret the results and increase your training load appropriately without taking any unnecessary risks – so you can get back to hobby, amateur or competitive sport in the best way possible.
Back to sport – upper ankle
One false step, you twist your ankle and it starts hurting. Minor injuries and swellings often go away by themselves. Yet if the foot is strongly swollen or if its alignment changes, you should consult a doctor.
Our team knows a great deal about sprain trauma. After thoroughly examining your injury, a sports physiotherapist will work with you to create the treatment plan – to identify the most direct and healthiest way for you to get back into your sport.
Women and sport – pelvic floor physiotherapy
At least every second female athlete knows about pelvic floor dysfunction. The consequences could be pain or incontinence. Our specialist physiotherapists take care of identifying, treating and preventing any complaints that could be connected with your pelvic floor. We're convinced that our trusting environment has a positive influence on the effectiveness of your individual treatment plan.
Women and sport – training and treatment in and after pregnancy
Physical activity is advisable during and after pregnancy; on one hand as part of the therapy and, on the other hand, for maintaining form and preventing injury when performing sport as a hobby and at a high-performance level. During individual physiotherapy, we treat any symptoms you have that often arise in conjunction with a pregnancy e.g. back pain, posture problems or pelvic floor dysfunction. We make all our knowledge available to you during individual training consultations.
Gym during pregnancy – group courses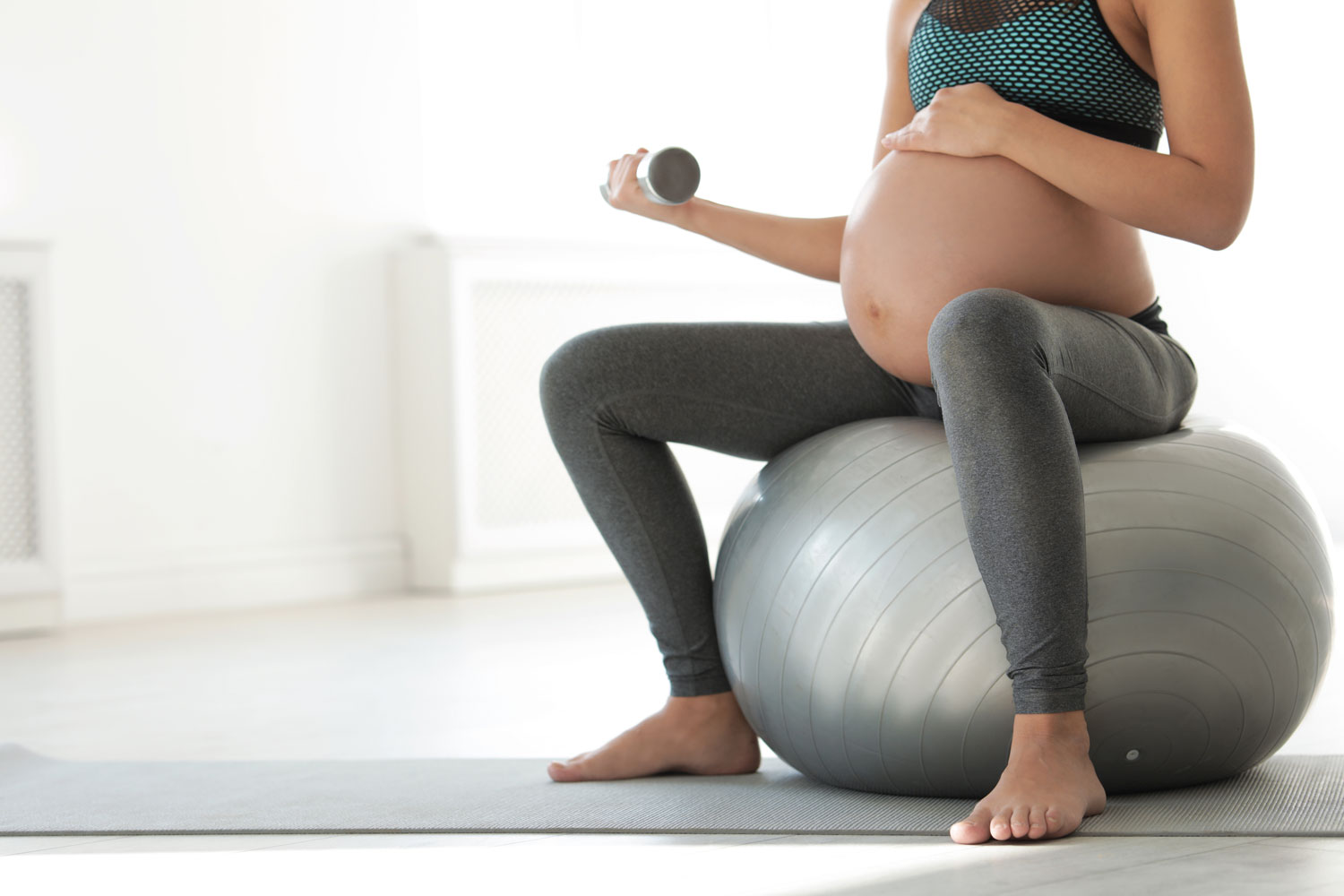 The cardio training and strength training are suitable for women from the 13th week of pregnancy. So you can keep active and learn which exercises and sports are good for you and your child.
Regression after birth – group courses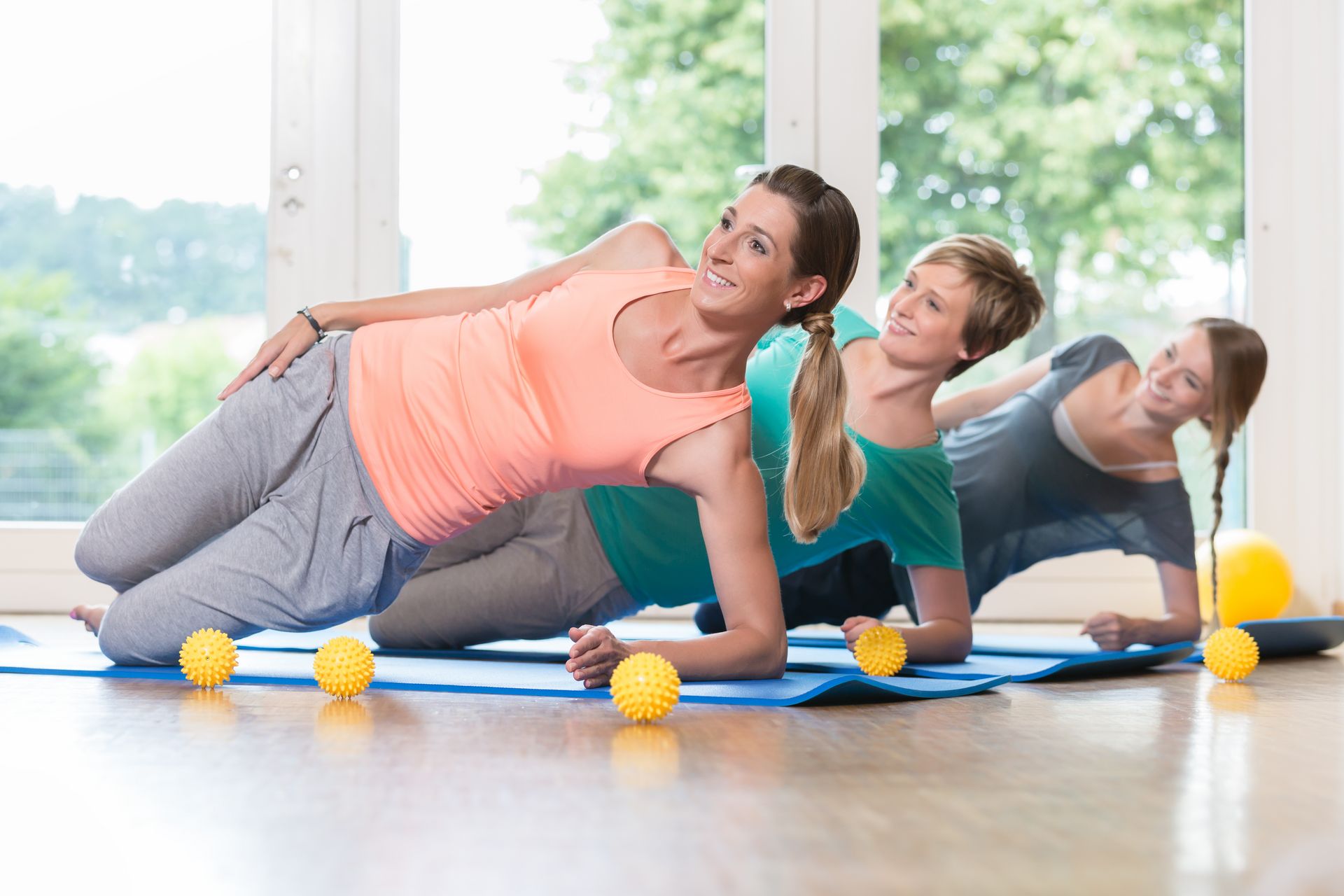 Just as you prepare for the birth of your baby, it is important to adjust to the new daily routine afterwards. This includes back formation training. In our back formation course, you will learn how to improve your posture and activate your pelvic floor. You will learn how to use your regained stability in everyday life and in your sports activities.
We also offer individual pelvic floor and rectus diastasis consultations in the areas of regression, return to sports and pelvic floor or abdominal wall dysfunctions.
Outpatient lung rehabilitation
This three-month rehabilitation program has been specially developed for patients suffering from chronic or acute lung problems (e.g. COPD, cystic fibrosis, after pneumonia, before and after lung operations or after a Covid infection). We train twice a week in the group to reduce your breathing difficulties and make you feel stronger and better overall.
Individual breathing therapy
Specialist therapists explain strategies and techniques to make breathing easier and mobilize secretions through proper expectoration. We also teach you how to handle the inhalation device in the right way and so-called illness management. So you'll learn to "manage" your daily life despite your symptoms.
Find out more about lung rehabilitation here.
Breathing aids
Various breathing aids (e.g. the DIAG P100®) are suitable for treating breathing problems and improving stamina. The respiration training device lets you breathe in and out quickly without hyperventilating or feeling dizzy. This enables patients to strengthen their breathing muscles in a targeted manner and demonstrably enhance their quality of life. We teach you how to handle the device and help you use it until you start getting more air again.
Assessments and tests
We initially measure your current form to identify deficits and quantify progress. We compare this data with that collected at later stages of the therapy or training. So we can see in black and white, as can you, where you stand in terms of performance and whether you're getting closer to your desired goal. The assessments and tests are suitable for many patients in rehabilitation and for sportspeople of all ability levels.
Isokinetic muscular strength measurements
We measure the strength of your front and rear thigh muscles. This enables us to determine, for example, whether there is still a strength deficit on the injured side following a rupture of the cruciate ligament. To rectify any differences between the sides and prevent future injuries, your physiotherapist will prepare a training plan for you and teach you how to perform the exercises correctly.
Move control - torso
We evaluate your torso, pelvic floor and control of your longitudinal leg axis in insightful tests. To counteract any deficits in a targeted manner, your physiotherapist incorporates suitable exercises directly into your therapy and training plan.
Move control – upper limbs
This functional test was developed at Balgrist University Hospital and helps us to identify the origin of pain or restrictions in movement. Your physiotherapist uses this information to create an ideal treatment and training plan for you.
Running analysis
We use a video analysis tool to investigate imbalances in the locomotor system while jogging. We analyze your running ergonomics on the treadmill and give you recommendations for optimizing this through training adjustments.
Group water therapy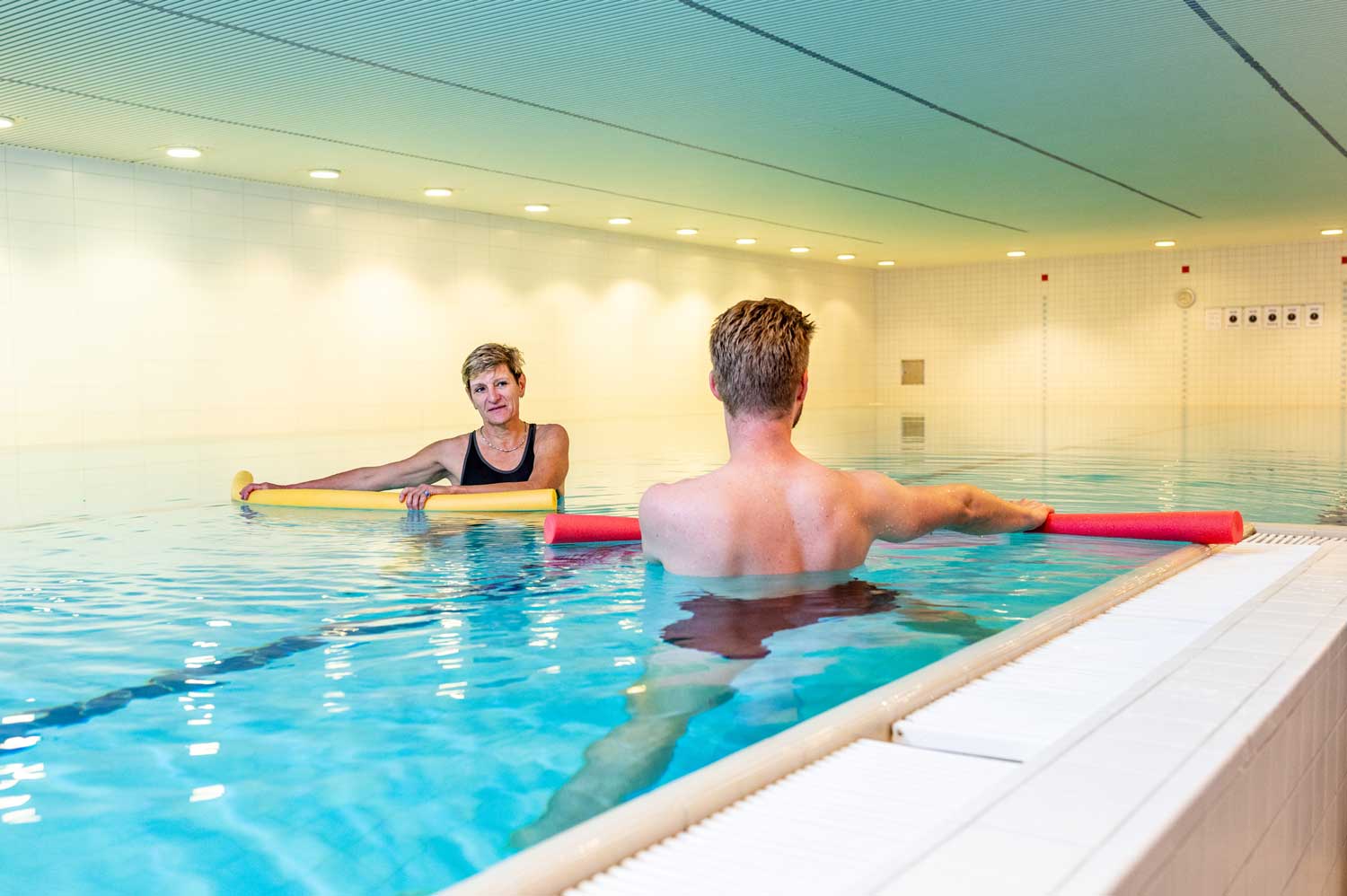 The physical properties of water make it particularly suitable for movement therapy. The focus in the pleasantly warm pool is on individual training that addresses the goals of each individual participant. In the group with a maximum of 12 people you can work on improving your agility, coordination, stability, strength or stamina.
Therapy knowledge - prevention & sports medicine
Authors: Matthias Jörger, Msc Physiotherapy; co-author: Marcel Enzler, Physiotherapist KSp MSK, Head of Therapies
Update shoulder – test of strength and function1
Shoulder examinations are part of the daily routine for our sports physiotherapists. We use equipment such as hand dynamometers to quantify findings and compare the strength values with one another. In doing so, we place a particular focus on movement execution.
The shoulder joint gets most of its delicate stability from the muscles, ligaments, joint capsules and labrum and is only controlled by bones to a lesser extent. As well as the complex interplay between these stabilizing structures, the interactions between the lower limbs and torso also have an influence on shoulder function. Shoulder complaints are therefore common in our society; the prevalence is up to 26% and up to 42% in arm-focused sports. Half of patients are still not free from their complaints after one year.
Integration into daily clinical practice
A working group of physiotherapists at our Center for Prevention and Sports Medicine has developed tests for quantifying the progress made in terms of strength and movement patterns. We can precisely identify and subsequently treat problems and symptoms by performing an extensive screening of the shoulder complex and the functional chain. Measurements can be integrated into day-to-day treatment and are ideal for rehabilitation, prevention and after injuries. We therefore have reliable methods for continually reviewing the progress made by sportspeople or patients with sporting ambitions.
References
1Jörger M, Enzler M. Update Schulter – Test von Kraft und Funktion. Sportphysio. 2020;08(03):135-144